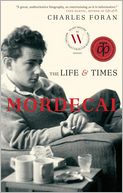 Mordecai Richler was born on this day in 1931. In Richler's breakthrough novel, The Apprenticeship of Duddy Kravitz, young Duddy cuts his entrepreneurial teeth by making avant-garde bar mitzvah films. In Barney's Version, Richler's last novel before his death in 2001, Duddy reappears as an aging movie producer, like Barney himself. The two books frame Richler's forty-year career, and the two characters reflect their creator's ability "to become himself on the page, to let Richler be Richler — funny, profane, defiant."

The quotation is from Mordecai, Charles Foran's recent, prizewinning biography. Foran rightfully cautions against a straightforward biographical reading of the novels, but the comparisons can be interesting. On the subject of marriage, for example. Barney met his third wife the day he married "The Second Mrs. Panofsky" — her name is never confided to the reader, Barney's attachment never getting beyond appetite: "She has a beautiful rack and makes a flaky kugel, and a lot of successful marriages were built on much less." Richler met Florence, his second wife, on the eve of his marriage to his first. Ultimately, Richler was as devoted as Barney was wayward, and his four-decade marriage to Florence became the anchor of his life — even his life as writer.

Florence was the first and most important reader for each of her husband's novels, suggesting additions to Duddy Kravitz and cuts to Solomon Gursky Was Here — she insisted that Richler give up a long set piece featuring a "Dental Academy Awards Night" paying tribute to a dentist named Overbite, who had heroically skateboarded across the United States to raise funds for a "Dental Anti-Defamation League." When Richler handed Florence the manuscript of Barney's Version— she came up with the book's final title — he was careful to express a disclaimer: "Incidentally, I have never had an affair since we met. But I cannot keep writing just about you." Foran notes that Richler maintained his devotion until the very end, and beyond:
RICHLER, the pink granite tomb reads. Below that, on the right: MORDECAI 1931-2000; on the left, FLORENCE 1929- , the space for the date still empty. Above the names is a carving of a stack of books. Along the bottom is part of the addendum that Richler had scribbled in his final weeks when he requested a single burial plot for himself and his wife:

So that eventually we may lie beside each other in death, as we did so happily in life.
---
Daybook is contributed by Steve King, who teaches in the English Department of Memorial University in St. John's, Newfoundland. His literary daybook began as a radio series syndicated nationally in Canada. He can be found online at todayinliterature.com.