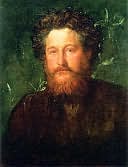 January 12: WilliamMorris began the Kelmscott Press on this day in 1891, installing three printingpresses into a cottage he had rented a few doors down from Kelmscott House, hisLondon home. Given that Morris died five years later, and that his books areranked as among the most beautifully illustrated and well-made, the KelmscottPress is regarded as the culmination of his life's work. It was certainly thelast in a long and influential list of obsessions and accomplishments, some ofwhich are captured in this one-sentence profile by friend and fellow artist,Edward Burne-Jones:
When I first knew Morris nothing would content him but beinga monk, and getting to Rome, and then he must be an architect, and apprenticedhimself to [G.E.] Street, and worked for two years, but when I came to Londonand began to paint he threw it all up, and must paint too, and then he mustgive it up and make poems, and then he must give it up and make window hangingsand pretty things, and when he had achieved that, he must be a poet again, andthen after two or three years of Earthly Paradise time, he must learn dyeing,and lived in a vat, and learned weaving, and knew all about looms, and thenmade more books, and learned tapestry, and then wanted to smash everything upand begin the world anew, and now it is printing he cares for, and to makewonderful rich-looking books….
In his furniture, textiles, wallpaper, stained glass, andpainting, Morris hoped to obey his "golden rule" to "Havenothing in your house that you do not know to be useful, or believe to bebeautiful." The statement became the motto of the nineteenth-century Artsand Crafts Movement, a cornerstone in Morris's socialist crusade, and therealized goal of his bookmaking: "I began printing books with the hope ofproducing some which would have a definite claim to beauty, while at the sametime they should be easy to read and should not dazzle the eye, or trouble theintellect of the reader by eccentricity of form in the letters."
---
Daybook is contributed by Steve King, who teaches in the English Department of Memorial University in St. John's, Newfoundland. His literary daybook began as a radio series syndicated nationally in Canada. He can be found online at todayinliterature.com.