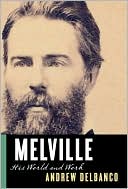 September 28: Seventy-two-year-old Herman Melville died on this day in 1891, decades after his popularity had waned. The obituary notice in the New York Times was just three sentences long; the few notices which appeared in other newspapers labored to describe the basis of Melville's earlier fame—not Moby-Dick, but the earlier sea tales, Omoo, Typee, and others. But the Times and a number of other publications did provide retrospective articles over the following week, these full of tributes and headshakes. The Springfield Republican told its readers that Moby-Dick "ought to be read by this generation, amid whose feeble mental food, furnished by the small realists and fantasts of the day, it would appear as Hercules among the pygmies, or as Moby Dick himself among a school of minnows." The Times retrospective emphasized Melville's fall from fame this way:
…Yet forty years ago the appearance of a new book by Herman Melville was esteemed a literary event, not only throughout his own country, but so far as the English-speaking race extended. To the ponderous and quarterly British reviews of that time, the author of Typee was about the most interesting of literary Americans…. Yet when a visiting British writer a few years ago inquired at a gathering in New York of distinctly literary Americans what had become of Herman Melville, not only was there not one among them who was able to tell him, but there was scarcely one among them who had ever heard of the man concerning whom he inquired, albeit that man was then living within a half mile of the place of the conversation.
In an 1849 letter, Melville contemptuously describes the last two books in his popular sea-tale series, Redburn and White-Jacket, as "two jobs, which I have done for money, being forced to it, as other men are to sawing wood." The letter goes on to describe Melville's "earnest desire to write those sort of books which are said to fail"—one of the most famous careful-what-you-wish-for comments in American literature, given the fate of Moby-Dick, published a year later.
---
Daybook is contributed by Steve King, who teaches in the English Department of Memorial University in St. John's, Newfoundland. His literary daybook began as a radio series syndicated nationally in Canada. He can be found online at todayinliterature.com.