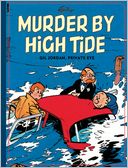 If ever there were a moment for Americans to fall in love with the incredible legacy of Franco-Belgian comics — or la bande dessinée — that time might be now, given the high profile of Steven Spielberg's forthcoming Tintin film. But the imperviousness of US audiences to Gallic funnybooks cannot be overestimated, given that they have already turned their collective nose up at so much, from Jacques Tardi to Lewis Trondheim to Asterix, all of which remain minority passions in this country. In further evidence, Luc Besson's 2010 film The Extraordinary Adventures of Adèle Blanc-Sec, adapted from Tardi, still has not been deemed release-worthy in the USA. Nevertheless, any hope at all of seducing new readers in America must rely on sheer availability of the texts, in attractive new translations, and no one is doing more along these lines than the publisher Fantagraphics.
Besides issuing several works by Tardi, Fantagraphics has also recently brought us volumes from David B. and Stéphane Blanquet. The latest in this ongoing program arrives from Maurice Tillieux (1921-1978), and features a private eye named Gil Jordan in two adventures, numbers three and four from the sixteen-volume series. Originally appearing from 1958 to 1960, these insouciant, stylish, and thrilling dramas should appeal to readers of all ages. If they don't hook a whole new batch of bande dessinée fans, France needs to take back the Statue of Liberty in a huff.
Along the spectrum of detectives, Gil Jordan fits somewhere between Dick Powell and Floyd Gottfredson's Mickey Mouse. Young, peppy, indefatigable, with a hint of darkness in his soul. Sometimes silly, sometimes peremptory and demanding, Jordan is accompanied by a goofball assistant named Crackerjack. Miss Midge governs the office in the best tradition of Bond's Miss Moneypenny or Steve Canyon's Feeta-Feeta. And Inspector Crouton from the police department, irritant and nemesis to Crackerjack, lends a hand. The engaging interpersonal dynamics of this troupe account for much of the charm. But the mysteries are no mere bagatelles either.
"Murder by High Tide" finds Jordan trying to discover who killed an antiques dealer, and why, across some colorful urban and maritime terrain. The suspects are duly arrayed, but you'll have a hard time guessing who's guilty. "Catch as Catch Can" opens with an apparently superhuman prisoner escaping from his cell, and segues into murder, insurance fraud, and some mad scientist antics. Both stories zip by with nary a dull patch. Confections lacking in gravitas, they nevertheless own the supreme virtues of lightness and panache.
Tillieux's art is always easy on the eye. If you can imagine an unlikely but very successful cross between the styles of Reg Smythe, creator of Andy Capp, and Hergé, Tintin's progenitor, then you'll have a rough idea of his look. In some respects, his art also recalls the Silver Age moderne vistas of Gil Kane and Carmine Infantino, with New Frontier furnishings and urban milieus. In his bow tie and suit, Gil Jordan even resembles Infantino's signature superhero the Flash in civilian garb, as police scientist Barry Allen.
Tillieux's pages layouts were conservative, the opposite of showy, yet perfectly encapsulated both the action sequences and expository segments alike. The wordy conclusion to "Catch" strays a little from perfection, but this slight sin can be forgiven in the light of all the wonderful moments that have gone before. If Spielberg is looking for a second franchise after Tintin, he couldn't go wrong with Gil Jordan.
---

Paul Di Filippo's column The Speculator appears monthly in the Barnes & Noble Review. He is the author of several acclaimed novels and story collections, including Fractal Paisleys, Little Doors, Neutrino Drag, and Fuzzy Dice.