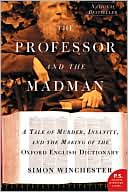 The final volume of the first edition of the Oxford English Dictionary was published on this day in 1928. Work on the OED began in 1879, with an original estimate that the projected four-volume set would take ten years. When it took five years to get to "ant," the editors knew they had underestimated spectacularly — perhaps definitively, given that the OED is based "on historic principles" and so is in a state of perpetual addition and revision.

Keeping up with the times, recent OED Supplements inform us, for example, that an "aliterate" is a person able to read but unwilling to do so, and that "teledildonics" is computer sex. Among the words and phrases on the OED's current "Appeals List" — a standing request that the general public submit quotations to the OED in support of their efforts to find the earliest and best usages — is "one sandwich short of a picnic":
This is just one variant of a mass of similar constructions to suggest that a person is slightly crazy. Many of the earlier examples are from Australia, refer to building materials and date back as far as 1939. But can you find evidence of "one sandwich short of a picnic" from before 1993? Or do you have evidence of other creative uses of the phrase?
In the late 1800s, when James Murray, editor of the first OED, made the first appeal for people to submit word usage quotations, he was inundated by the worldwide responses from amateur word sleuths. The story of Murray's most famous contributor, a man at least one sandwich short of a picnic, is told in Simon Winchester's 1998 bestseller, The Professor and the Madman. There we read of how Dr. W. C. Minor, an expatriate American physician, submitted tens of thousands of valuable quotations to Murray over several decades; how the grateful editor, curious about his enthusiastic correspondent, finally arranged a meeting; how Murray, an undeviating and devoutly religious teetotaler, first greeted Minor, long imprisoned in Broadmoor Asylum for murder and other violent, schizophrenia-induced acts:
I am Dr. James Murray of the London Philological Society and Editor of the New English Dictionary. It is indeed an honor and a pleasure to at long last make your acquaintance — for you must be, kind sir, my most assiduous helpmeet, Dr. W. C. Minor?
---
Daybook is contributed by Steve King, who teaches in the English Department of Memorial University in St. John's, Newfoundland. His literary daybook began as a radio series syndicated nationally in Canada. He can be found online at todayinliterature.com.