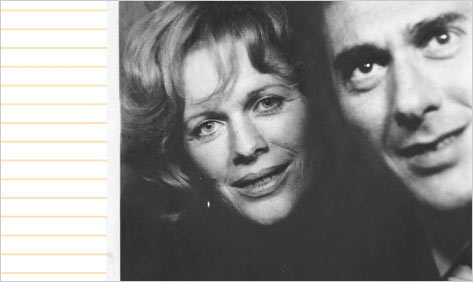 InJanuary, 1975, Harold Pinter was 44, unhappily married to actress VivienMerchant, with one teenaged son. At 42, Lady Antonia Fraser, the bestsellingauthor of Mary Queen of Scots, was a noted beauty, the Catholic wife of HughFraser, a Conservative MP, and the mother of six children. When Fraser went tosay goodbye to Pinter at the opening night celebration for his play The Birthday Party, he responded, "Must you go?" Mesmerizedwith each other, their night continued "with extraordinaryrecklessness" until dawn.
Their relationship wasscandalous, "intensely romantic"—and long-lasting. They quickly movedin together, marrying five years later after Pinter's wife finally granted hima divorce.
Must You Go? is Fraser's account of their 33-year relationship,stitched together largely from excerpts from her diaries shortly after Pinter'sdeath from liver cancer in December, 2008. It joins such literary spousaltributes as John Bayley's Elegy for Iris, Joan Didion's TheYear of Magical Thinking, and Calvin Trillin's About Alice.
In addition to apassionate love story, Must You Go? isa record of Pinter's creative process—"a consequence of a biographerliving with a creative artist and observing what went on first hand." Pinter,who was awarded the Nobel Prize for Literature in 2005, wrote his plays inbursts of inspiration. Fraser's book reminds us that he was also anaccomplished director, actor, and screenwriter—an activity he regarded as animportant art in itself, "not just a 'my-house-needs-painting'exercise."
With the graciousness thatno doubt earned her the SundayIndependent headline, "He's grumpy, she smoothes things over," Frasercaptures Pinter's sometimes "savage melancholy," his often inflammatoryoutspokenness, and their remarkably productive lives, filled with work,political activism, family, and many famous acquaintances.
In their "last realconversation," Pinter asked Fraser, "'What are your plans,' pause,'generally?'" She mentioned the support of family and friends. What shedidn't mention was the solace of working on this moving, absorbing memoir.