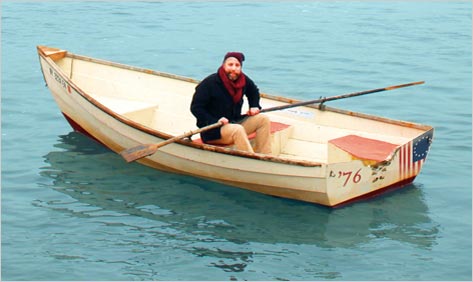 Because Robert Sullivan has a special knack for making the seemingly banal extraordinary, it is fitting that the subjects of his last three books are New Jersey, rats, and New Jersey — successively. He's carved out a special journalism of the seemingly overlooked but actually vital; and he's also found a way to make places that we otherwise can't or won't see imbued with new luster.

I first came to Sullivan while pursuing a graduate degree in journalism. I was trying to figure out how to make my chosen beat — the pathways traveled by garbage — as fascinating to others as I felt it was to me. Along the way I read and worshipped Sullivan's classic Meadowlands — in which Sullivan explores the ecological center of New Jersey's devastated wetlands by canoe, allowing himself to encounter the rubble and improbable beauty — and the quirky characters and toughened animals along the shore.

Sullivan's new book, My American Revolution, follows a similar bent, albeit in a different discipline. Here the historical, rather than the ecological, provides our present landscape with its luminous counterfactual. As Sullivan notes, most of the battles of the American Revolution were fought within a stone's throw of New York City. Looking this way, almost willing the past to erupt into the present, Sullivan declares that "the vista is a great palimpsest of the revolution." He sets out to bring fragments to life, to find some quivering historical reality from the strip malls, amnesia, and occasional historic pastiche that now pave them over.

Sullivan seeks to uncover, for instance, something about the actual crossing of the Delaware behind and beyond its multiple (and sometimes corny) reenactments. But at times Sullivan plays a reenactor himself, as when, following a route between the battles of Trenton and Princeton, he wanders New Jersey in the dead of winter with only a backpack. As well as moving through Revolutionary chronology, Sullivan also traverses the seasons. He takes pleasure in wondering if the ice and snow on the Delaware are as thick as in Washington's time. He delights in the fact that porpoises and bluefish that show up for him in the harbors of today, just as they did for Washington then.

This all makes for a charmingly kooky, if occasionally over-elaborate exploration. At times it is all as slow going as marching across a frozen colony in bad shoes. Sullivan feels a need to dramatize the palimpsest, perhaps too much. Reminding us of the multiple, fragmentary, sedimentary nature of histories, Sullivan punctuates his actual story with digressive marginalia stacked in very long, very small footnotes. At its best this feels artful. The notes — meant to enact to possible readings of parallel histories — also recalled modes of one of the other epic chroniclers of New Jersey, William Carlos Williams.

But at times the accreted weight of Sullivan's notes and routes grew fatiguing. Meanwhile, something about the book eluded me throughout: I only partly grasped the nature of the obsession animating Sullivan, why he — and his reader — should have to keep following George Washington around contemporary New York.

It is hard to bring history to life, to see beyond what's paved over, to crack through pastiche. What emerges from such effort can seem only dreamlike — and Sullivan is clearly enamored of the dream. At one point he quotes the early-twentieth-century mapmaker and collector I. N. Stokes, who seems to have given him the method for his own divagations, and who provides here a little meditation on what it means to dream this way, to envision the past floating over the present:
I usually start from some point in a modern city, and on my way…. I am tempted to try a short cut. I wander over hills and valleys and often through virgin forests, and sometimes come out on the shore of the Hudson…. (I) take great pleasure in searching for landmarks which I know exist — or at least existed at the time pictured in my dream.
For Stokes, like Sullivan, the dreaming is both the process and the reward.