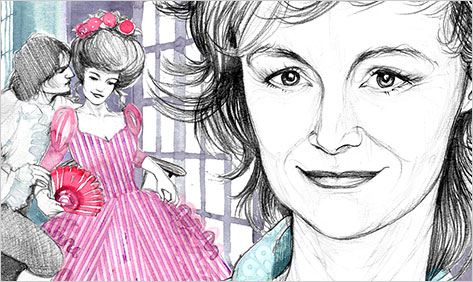 My favorite moment in The Importance of Being Earnest comes when Lady Bracknell demands to know whether Jack smokes, and when he admits that he does, she says (magnificently): "I am glad to hear it. A man should always have an occupation of some kind."

Her comment sums up one of the challenges of writing historical novels: just what did lords and ladies, particularly ladies, do all day long? How on earth do you make a heroine sympathetic when she spends her time changing her bonnet? One answer is to give the heroine a career that pitches her into a man's world, even though that is no recommendation for marriage. In the three novels that follow, the heroine's career doesn't exist merely to give an old-fashioned girl a modern sheen; instead, the heroine's determination to become a novelist nearly destroys her chance at happiness.

Laura Lee Guhrke's With Seduction in Mind is a truly original and fascinating romance set in 1896. Her heroine, Daisy Merrick, keeps getting fired, whether she tries being a typist, governess, or dressmaker. It's not a matter of incompetence; her opinions are simply too strident. She tells a would-be seducer that he's too old, and a plump matron that silver satin makes her look fatter. In her first foray into drama reviewing, she blasts a famous, titled author for being a second-rate Oscar Wilde. What Daisy really wants is to be a novelist, but — and here's where this novel takes a true turn for the original — she's not all that good. Even when she manages to wrangle her way into editing the work of that same famous writer, Sebastian Grant, the Earl of Avermore, she doesn't turn out to be the next Jane Austen. In fact, her work sounds pretty terrible (I personally thought that Sebastian's advice that she deepen the novel by killing off the dog would't help her sales).

Sebastian is as interesting a character as Daisy: rather than being merely a peer with a taste for literature, he?s a complex, dark, and destroyed man. She attacks his work in print; he labels her novel treacly and raw, not to mention excessively melodramatic. But the real problem arises when Daisy manages to force Sebastian into writing again — but only around, and in a sense, through her. She becomes his drug, the crutch that enables him to write. He doesn't love her; he just needs her. But Daisy loves Sebastian. Wise enough to realize that being his muse is not enough, she turns her back on both him and her career, and goes back to typing. Daisy is one of the pluckiest heroines I've read in a long time. The sparring between the two of them is sexy, funny, and poignant – you'll find yourself rooting for Sebastian to pull himself together and realize that his career is not dependent on Daisy, but his happiness is.

Georgette Heyer's Sylvester offers a similar situation, in that the heroine plans a career as a novelist in order to escape her drab prospects on the marriage market. Heyer is a brilliantly witty writer, and Sylvester is one of her best. Miss Phoebe Marlowe didn't "take" in her first Season; she's quiet when in company, and overshadowed by an abrasive stepmother. But her sense of humor is wicked, and that's what comes out in her writing, particularly her first published novel, which features the thrillingly evil Count Ugolino. Unfortunately, Ugolino is obviously fashioned after Sylvester, Duke of Salford, who announces, on the eve of book publication (of which, of course, he is unaware), that he is considering Phoebe as his bride. With the help of a few snowbound days in an inn, Phoebe manages to puncture Sylvester's monumental self-esteem, as she chastises, laughs with, and mocks him.

In fact, Sylvester finds himself unexpectedly enchanted with a little snip of a girl who isn't even that pretty, but can have him laughing with one twinkle. But he knows nothing of her career. When the tale of Count Ugolino turns into a bestseller on the basis of its cheeky caricature, he's at first mortified, but then horrified when it comes out that Phoebe is the author — and nonplussed when she tells him that she'd rather be a novelist than his duchess.

She has humiliated him in public and in private; for a man with as much pride as Sylvester, there can be no future for them. Like Sebastian, Sylvester must come to understand how much he loves Phoebe, despite the fact that she's the author of the harshest criticism he?s faced to date.

Judith Ivory's Black Silk has a similar plot device to Sylvester: a novel is circulating through society with obvious, explicit allusions to the hero. Graham Wessit, Earl of Netham, is enraged to discover that the more depraved parts of his life are being caricatured in a serialized novel, The Rake of Ronmoor, or The Villainous Exploits of an Earl?s Depraved Heir. The only apparent connection between Ivory?s heroine, Submit Charning-Downes, and the hero is that she's the widow of his former guardian. But when the publisher of the Villainous Exploits discloses that Submit's dead husband was its author, she finds penning sequels in a desperate bid for money.

She doesn't initially recognize the novel's basis in Graham's life, but she is fascinated by the idea of using her observations about one of the most interesting men she knows (Graham Wessit, of course) in the her new installments of Villainous Exploits. Voila! Like Phoebe, she finds herself in the position of having deeply insulted, if not betrayed, a man whom she comes to love. Yet in writing, Submit also finds a deep pleasure because she is not obligated to anyone, for the first time in her life. Thus when she and Graham become lovers, she can continue to "make commerce" from his faults — or become destitute.

One of the crucial threads running through all of these novels is the fact that writing is dangerous. It can be used as a ruthless weapon that injures and destroys. At the same time, the ability to write is genderless, and, particularly for women in the past, a brilliant career offered the lure of freedom. For women who did not enjoy spending their days at the modiste, authorship was a linguistic and financial escape from everything implied by Submit's first name. These three heroines circulated their most pungent criticisms in print. Their partners were forced to face their lovers as equals rather than as mere bonneted beauties.

If you'd like to discuss romances with authors-for-heroine, or insulted heroes, or brilliant careers in general, please stop in to chat with Eloisa James in the Romantic Reads Book Club, where she'll be joined by Laura Lee Guhrke. You can check out Eloisa?s past columns in the Archives. If you'd like a peek at Eloisa?s own romances, please visit her web site at www.eloisajames.com.

And don't forget to check out the new Barnes & Noble daily romance blog, Heart to Heart, where the fabulous Michelle Buonfiglio chats about the hottest news in the world of romance, from favorite authors to scorching love scenes.