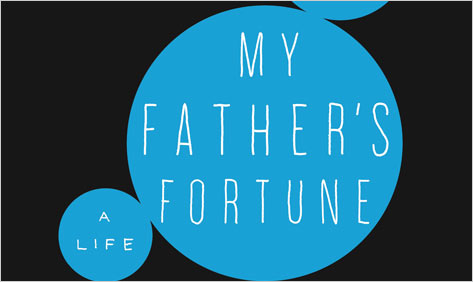 With My Father's Fortune: A Life, playwright, novelist,translator, journalist, and screenwriter Michael Frayn adds memoirist to hisattributes. Is this inspired mischief maker constitutionally suited to thetask? Throughout his artistic career he has exercised a humane nominalism,poking holes in the idea of an enduring self—indeed, his characters havequestioned the possibility of understanding anything at all. "I'm notsure…if I really understand even what it means to understand something," admits the central figure in Spies, Frayn's last novel—this, as hetries to summon up what was going on in the head of his much younger self. Butin this moving autobiographical work, Frayn's reservations about what can beknown surface only as a droll counterpoint to the emotional drama that emerges,from the evidence of censuses, vital records, family photos, interviews,recollections, and from Frayn's bold and busy imaginings.
MichaelFrayn's parents and grandparents inhabited that social tideland in industrialEngland in which people drifted back and forth between the lower-middle andworking classes. His paternal grandfather had gone from shop assistant to shopowner and back again. Frayn's maternal grandparents had their own vicissitudes,including an unsuccessful sojourn in the U.S. where the author's mother, Vi,was born. Their return to England eventually brought short-lived businesssuccess, followed by lasting business failure.
Frayn's father, Tom, a lively andengaging fellow, left school at fourteen to become an office boy. At the age of18, now a wages clerk, he went to a party on a chance invitation and there hemet the 14-year-old Vi. They fell for each other immediately. The sheerarbitrariness and existential ramifications of this conjunction is stunning toFrayn—as is the inadvertency of his own conception many years later. Again and again he stops to wonder at both thefragility and the determining might of the chain that leads from past topresent. A single terrible link, a decision made long in the past, lies at theheart of this book. At first only hinted at, it is finally revealed to be thecause of his family's greatest tragedy.
Though Tom rose to become a successfulsalesman, the improvidence of both families prevented the couple from marryinguntil 11 years after their fortuitous meeting. Even then they had to take Vi'smother into their small flat. Here, as elsewhere throughout the book, Fraynenters into the present tense to envision the setup, a bustling routineinvolving room measurements, furniture placement, the positioning of actors,and testing of scenarios—all done with comic panache. He himself arrives on thescene in September, 1933. "There's rather a lot of me in the familysnapshots dating from the next year or two," Frayn reports—before issuinga familiar caveat. "Or at any rate of a chunky, chubby boy with abundantblond curls who slowly changes over the next three-quarters of a century, as Ibelieve from my confused recollections and from a certain amount of documentaryevidence, into the gaunt, balding old gent I now identify as me."
Eventuallythe family, which grew to include Frayn's sister, moved to the London suburbsand it is there they lived through the war—though they were almost blown up bya German V-1 "Doodlebug." It is there too, less than three monthsafter the war ended, that Frayn's mother dropped dead from a heart attack, atragedy so devastating that the family is never able to discuss it. Frayn'sfather was left with the bringing up of two children while holding his job. Hewas increasingly mystified and troubled by his son. No good at sports ormathematics, the boy developed into a condescending young man whose privatecareer goal was to become a romantic poet. Looking at a class photo from thosedays, Frayn sees himself wearing "a most unpleasant sneer"(photographic evidence supplied). "Have I put the expression on specially,in honor of the occasion?" he asks. "Or—good God—do I look like thatall the time?…Is this what my father sees across the supper table eachevening?"
Fraynbrings us through subsequent events, expressing his mortification at havingbeen the callow youth that he was, an alien character whose pomposities he presentsmost entertainingly. He attempts to plumb the mystery of his father's state ofmind, troubled that he himself had been more of a trial than a blessing to theman—an uneasiness calmed by book's end. He honors the fortune his fatherbequeathed to him: his smile, his skepticism, his tendency toward fiction, andthat most fortunate gift of all, his very existence: "a life," as thesubtitle suggests, and that of his children, and of theirs. This is abeautifully written portrait of a vanished way of life and a fondly humorous,very affecting work of homage and love.
---
AmongKatherine A, Powers's identities is literary columnist for the Boston Sunday Globe.