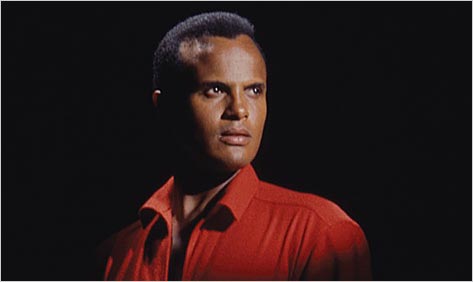 Celebrity memoirs, of which there are a surfeit these days, tend to follow a predictable pattern: open on a moment of crisis, preferably a near-death experience (the Brush with Death); stumble upon a star turn (the Big Break); and fill the balance of the book with a succession of successes, leavened by a few instructive failures (the Happily Ever After). What brings us back to these books in spite of their predictability is the voyeuristic sensation of glimpsing the private lives of public people.

Harry Belafonte's My Song is in many ways just this sort of conventional celebrity memoir. What distinguishes it — and elevates it to excellence — is the quality of experience that the book chronicles. Belafonte's Brush with Death isn't an overdose in a suite at the Chateau Marmont, it's a high-speed escape with Sidney Poitier from the Ku Klux Klan to deliver a suitcase filled with tens of thousands of dollars to support civil rights activists in Mississippi. His Big Break isn't a record label intern discovering his demo at the bottom of a box of unsolicited tapes, it's walking onstage for his first gig to find that his backup band consists of jazz immortals Max Roach, Al Haig, Tommy Potter, and Charlie Parker. His Happily Ever After isn't a series of Billboard and box office hits, famous paramours, and big paychecks (though he enjoys all of these in abundance), it's a lifelong commitment to the cause of civil rights, both at home and abroad.

Far from a celebrity tell-all, My Song is a serious account of a life of service — to race, to country, to the cause of equality. The big revelation of this book, perhaps even for those who remember Belafonte at the height of his matinee idol stardom, is just how integral he was to the nation's political life. "I wasn't an artist who'd become an activist," Belafonte observes midway through the memoir, "I was an activist who'd become an artist." This activism stretches from the 1940s labor movement to the civil rights revolution; from anti-apartheid demonstrations to African famine relief; from outspoken opposition of the Bush administration to more measured but still strident critiques of the present administration.

As a memoir of activism, My Song can be read beside the masterful Walking with the Wind: A Memoir of the Movement by the civil rights icon John Lewis (with Michael D'Orso). Like Lewis, Belafonte was present at some of the pivotal moments of the era and can therefore render them on a human scale. Belafonte reveals, for instance, that for a time he acted as the primary intermediary between Martin Luther King, Jr. and the newly elected Kennedy administration — while maintaining a public profile as one of two or three most famous black people alive.

Throughout his life, Belafonte leveraged his celebrity in the name of great causes. In one particularly striking example, he recalls rallying his famous friends — Marlon Brando, Charlton Heston, Paul Newman, Tony Bennett, Lena Horne, and many more — to attend the 1963 March on Washington. "As a group," he asserts, "we played more of a role in most Americans' daily lives than their priests or pastors, their politicians, or even their teachers…. To see us all together, moving as one, saying by our presence that segregation would not stand — that was powerful."

For all its striking revelations, My Song is perhaps least revealing about the inner workings of Belafonte himself. In the book's opening chapter, he posits that both his art and his activism were motivated not by love or passion so much as by a "deep wellspring of anger." This is intriguing, even troubling, but in fact the book is marked by a curious deficit of darkness. Belafonte only gestures at the possible roots of his rage: poverty, racial discrimination, his fractured family life.

As for the credit Belafonte gives throughout the book to a lifetime spent in psychoanalysis, little self-analysis seems to be at work on the most sensitive matters within: his hints at gambling addiction, the dissolution of multiple marriages, the failures in fatherhood, the undoubted personal struggles that must have accompanied going from being one of the most famous people on the planet to being, in his own words, a regular on the Lifetime Achievement circuit who has quite literally lost his voice.

Even at eighty-four, when many would be looking back upon a life well lived, in a memoir that is designed to do just that, Belafonte faces forward. "About my life," he writes near book's end, "I have no complaints. But I do have grave concerns about race and poverty in this country, about what the movement has left undone and how little of a movement remains to do it." Rather than ending on a note of pessimism, though, the song Belafonte sings — the one he has always sung — is one of challenge, one of hope.