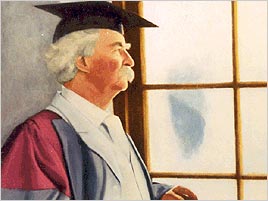 Twain's last big trip — and hurrah — was to Oxford University in the summer of 1907 to receive an Honorary Doctorate, which he esteemed as "the highest honor that has ever fallen to my share of this life's prizes." His final public address before sailing for home was his "Begum of Bengal" speech, now regarded as one of his best. Twain's speech turns upon a sea story borrowed from Richard Henry Dana's Two Years Before the Mast, an encounter between two ships on the high seas. One is a small coastal trader skippered by a man who likes "to air his small grandeur," the other is an ocean-going Indiaman "with course on course of canvas towering into the sky, her decks and yards swarming with sailors, her hull burdened to the Plimsoll line." The encounter is transformed by Twain into a life-closing parable in which he is the coast-hugging, big-talking skipper, now enlarged by oceanic praise:
…my vain self-complacency rides high on the white crests of your approval, and then I am a stately Indiaman, plowing the great seas under a cloud of canvas and laden with the kindest words that have ever been vouchsafed to any wandering alien in this world, I think; then my twenty-six fortunate days on this old mother soil seem to be multiplied by six, and I am the Begum, of Bengal, 142 days out from Canton — homeward bound!
---

But over his last few years Twain gave up his Oxford robes, and increasingly his white suit, for bedclothes, a dressing gown, and recurring despair. In 1909, when he lost Jean, the last of three children to predecease him, he wrote that he was glad of her release from "the swindle of this life." His last interviewer describes finding a "sorrow-stricken soul" lying full length and face downward upon his bed, a band of black crepe around his arm. One of his letters from his Bermuda retreat describes the wind completely gone from the sails, the ship abandoned:
There is not another orphan who is so wrecked, so ruined, so forsaken, as I am. Just a battered old derelict washing about the wastes of the great seas, with nobody on the bridge.
---
Steve King contributes Daybook to the Barnes & Noble Review and teaches in the English Department of Memorial University in St. John's, Newfoundland. His literary daybook began as a radio series syndicated nationally in Canada. He can be found online at http://www.todayinliterature.com.
Portrait of Twain at Stormfield in Oxford Gown by Susan Boone Durkee. Reproduced by kind permission of the artist.
Image of Twain reclining from American-British photographer Alvin Langdon Coburn, in Archibald Henderson's Mark Twain (Stokes Publishing, 1911)