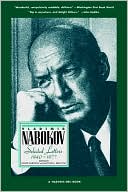 April 22: Vladimir Nabokov was born on this day in 1899, and Vladimir Lenin was born on this day in 1870. Historically speaking, the two cross paths in St. Petersburg in 1917: as Lenin returned from exile after the first Bolshevik uprising forced the abdication of Tsar Nicholas II, the Nabokovs, one of those very wealthy and privileged families which the revolutionaries had in their sights, were packing to leave the city and the country. Lenin's "April Theses" advocated the confiscation of all landed estates, the land to be transformed into model farms run by the local Soviets of Agricultural Labourers' and Peasants' Deputies. Among the estates that the Nabokovs gave up is one where the author had spent much time growing up, and that he had inherited (along with two million dollars) from his Uncle Ruka just the previous year — two thousand acres on the Oredezh River, with a mansion designed by Rastelli, architect of the Tsar's Winter Palace.
In Speak, Memory, Nabokov fondly describes the estate and vividly recalls his time there: "With a sharp and merry blast from the whistle that was part of my first sailor suit, my childhood calls me back…." But he also addresses a warning to "the particular idiot who, because he lost a fortune in some crash, thinks he understands me":
My old (since 1917) quarrel with the Soviet dictatorship is wholly unrelated to any question of property. My contempt for the émigré who "hates the Reds" because they "stole" his money and land is complete. The nostalgia I have been cherishing all these years is a hypertrophied sense of lost childhood, not sorrow for lost banknotes….
In another passage of his memoir, ranked #8 on Modern Library's list of Top 100 Non-Fiction books, Nabokov extends his theme and his warning: "I confess I do not believe in time. I like to fold my magic carpet, after use, in such a way as to superimpose one part of the pattern upon another. Let visitors trip…."
---
Daybook is contributed by Steve King, who teaches in the English Department of Memorial University in St. John's, Newfoundland. His literary daybook began as a radio series syndicated nationally in Canada. He can be found online at todayinliterature.com.