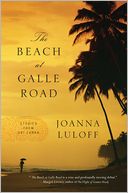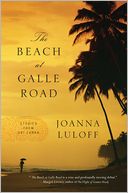 Dear Reader,
One of the real pleasures of my job is watching the selection committee readers talk about the books they love – faces literally light up, and hands fly about in the air (I'm far from the only one gesticulating wildly).
And that's exactly what happened as the readers were talking about what they'd read in Joanna Luloff's debut, The Beach at Galle Road, a collection of linked short stories so elegantly composed, and so full of story — hers are stories that feel as though they could contain entire novels, not unlike the stories in previous Discover selections Brief Encounters with Che Guevara and Interpreter of Maladies — that we're still talking aboout them, even as we begin reading for the Summer 2013 season of Discover Great New Writers.
Part of Luloff's luminous, heart-breaking work was informed by her Peace Corps posting to Sri Lanka — which she expounds on in this guest post for the Discover blog, but the rest, well, that's pure art, and why we can't wait to read more of her work in the years to come.
Narrowing the Distance between 'Our' and 'Their'

In the middle of my Peace Corps service in Sri Lanka, my parents came for a visit. A few days into their stay, my mother suffered from a flare-up with her lupus and wound up in a government hospital in Kandy. On the surface of things, the hospital was a disaster – overcrowded rooms with no privacy, harried and overworked doctors and nurses, no sheets on the beds, a floor that needed a good scrubbing. Through my father's eyes, that hospital must have looked horrifying.

The staff didn't know what to do with us; they weren't used to foreigners in their wards. A kind orderly gave me advice – I could find bed sheets and dressing gowns at the central market by the bus stand. I could grab good potato cutlets and lentil patties in the courtyard between one and six in the afternoon. My father and I shuffled a deck of cards aimlessly in the waiting hall, hour after hour playing euchre, occasionally drawing a crowd of puzzled onlookers. My mother, unconscious and unaware of her surroundings, remained in the I.C.U.

On the second day of our vigil, a nurse approached me. She had heard me speaking Sinhala and asked if I'd like to join her for some tea in the staff break room. The last thing I wanted to do at the time was attempt conversation with strangers in my broken, childlike Sinhala, but the nurses had been kind to us and I needed a pause from our never-ending game of cards. Suchinta poured me a cup of tea, added the required heap of powdered milk and three teaspoons of sugar, and proceeded to give me a tour of the I.C.U. Near my mother was a man dying of a krate bite. In another bed, an old man, feverish, moaned in his sleep. And beyond him lay a young woman, resting after a recent tracheotomy. Her arms had been tied to the bed with cloth. Suchinta explained that she was heavily sedated and on suicide watch. And our tour continued.

As we wandered through the hospital, Suchinta told me the young woman's story. She was Tamil, had lost most of her family to shelling in the east. A family friend had hurried her here to Kandy (the best hospital in the country, Suchinta said with pride) after the woman had attempted to take her life by drinking lye. It wasn't unusual, Suchinta explained. These girls don't have a lot of options; this one's lucky she has friends who cared enough to bring her here. Suchinta revealed all of this with measured nonchalance. She wasn't being unkind; she was merely telling me the way things were. There is a Sinhalese phrase Mokakde kerana itthing, which loosely translates to "What to do?" This kind of resigned acceptance had infuriated me early in my service, but I had grown used to it over time. It was a refrain people used to talk about the war, about the lack of facilities in the schools, about the cost of petrol, about the train that would be delayed again, if it even arrived at all.

Suchinta left me in the I.C.U. hallway. She had told me that no one would bother me if I wanted to visit with my mother for a while, even though visiting hours were over. I held my mother's hand as I listened to the beeping and whirring sounds coming from the other beds. Never had my experience in Sri Lanka showed me the collapse of "our" and "their" as it did in that moment in Kandy. My family's experience had come into proximity with Suchinta's stories in the unbordered space of the hospital. I'm not suggesting that my mother's health problems or our own, personal suffering could be equated with the young woman's struggle a few beds away. I only mean that my time in Sri Lanka brought many narratives together for me. Years later, I would base a character (Nilanthi) on the young woman in the I.C.U., and I would also write a story about an American volunteer who bumbles his way through a disastrous visit with his parents, and who also happens to fall in love with Nilanthi.

As I continued writing the stories in The Beach at Galle Road, I wanted to explore the tensions between feeling like an insider and an outsider in your community. I hoped to suggest the ways in which stories can weave between disparate experiences, how loss as well as resilience can travel between individuals and geographies. I saw the collection as a kaleidoscope of vantage points, offering reflection not only on the Sri Lankan civil war, but on the always shifting understanding of home and family, of connection and dislocation, of the past's weight on the present. Many years after my return from Sri Lanka, the memory of my mother's hospital stay remains fused to Suchinta's narratives, linked across time, place, and experience. — Joanna Luloff
Cheers, Miwa
---

Miwa Messer is the Director of the Barnes & Noble Discover Great New Writers program, which was established in 1990 to highlight works of exceptional literary quality that might otherwise be overlooked in a crowded book marketplace. Titles chosen for the program are handpicked by a select group of our booksellers four times a year. Click here for submission guidelines.