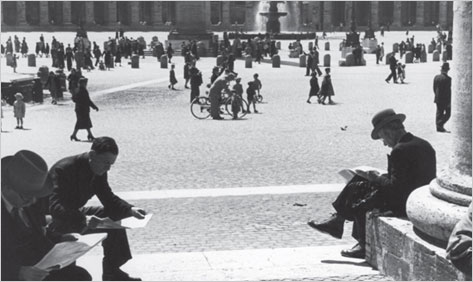 Dirges of himself? That is not quite right as a description of Philip Levine's News of the World, for the poems are more wizened than forlorn-unblinking, not unforgiving. Yet Levine evokes American decline as surely as Whitman did the promise of a nation's youth. In "Our Valley," Levine writes,
You have to remember this isn't your land.
It belongs to no one, like the sea you once lived beside
and thought was yours.
Similarly, Levine salutes his grandfather in "My Fathers, the Baltic" for
your gall, your rages,
your abiding love
for money and all
it never bought
Possession and money may entail self-delusion, but Levine is enough of an appreciator of humanity to capture buoyant industrial workers on payday in wartime Detroit, leaning against Ruby's Rib Shack, elated to have "finished a short workweek, and if they're not rich they're as close to rich as they'll ever be in this town."
The center of historical gravity in News of the World is the wartime forties in Toledo, Buffalo, Flint ("the places are the same except for the names," Levine writes) — and, as ever, Detroit, with its small machine shops and colossal factory citadels, today all but stilled. In "Dearborn Suite," Levine spins a fantasy of Henry Ford, "supremely bored" in his mansion, deciding to head down to the shop floor:
Hell is here in the forge room
where the giant presses stamp
out body parts….
The old man, King Henry, punches in
for the night shift with us,
his beloved coloreds and Yids,
to work until the shattered
windows gray.
Similar flights of magical realism capture other lost worlds, in an arc tracing from Brooklyn to Barcelona. News of the World broods upon time, decay, loss, and death, imbricated within history, labor, and nature. Levine's is a world where men and women "buy and sell each other." It is also "an immense, endless opera punctuated by the high notes of sirens & the basso profundo of trucks & jackhammers & ferries & tugboats."
"This is the world,"
I think, "this is what I came
in search of years ago."