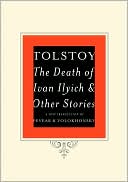 This has been a terrific year for collections of short fiction, as one of our contributors reminded me last evening: The Collected Stories of Lydia Davis; Wells Towers's Everything Ravaged, Everything Burned; James Lasdun's It's Beginning to Hurt; Alice Munro's Too Much Happiness; Kazuo Ishiguro's Nocturnes; Ha Jin's forthcoming A Good Fall; John Updike's valedictory My Father's Tears (and the first complete issue of my own favorite sequence in that author's work, The Maples Stories).
But the most notable volume of recently published short fiction on my shelf at the moment collects works more than a century old. The Death of Ivan Ilyich and Other Stories collects the most telling shorter works of Tolstoy, in, so far as I have sampled them, characteristically animated and readable translations by the dynamic duo of Russian translation, Richard Pevear and Larissa Volokhonsky. Continuing their epic march across the tracts of 19th-century Russian fiction, the husband and wife team here offer new versions of the title tale as well as "Hadji Murat," the tale of a Chechen rebel which Harold Bloom has called "the best story in the world," "The Prisoner of the Causcasus," and several others-eleven stories in all.
I was fortunate enough to spend an hour with Richard and Larissa two years ago, when their translation of War and Peace appeared. During our interview, the pair offered many insights into the translation in general and translating Tolstoy in particular. "Gaining the trust of a reader is a key thing in translation," Richard said.
How do we do that? The thing is, we have to be Tolstoy. I don't want the reader to trust somebody else, I want them to trust Tolstoy. But at the same time, we have to be Tolstoy in an English that the reader can believe, and can follow, and can be courted in, instead of having this distance in which something begins to fail, the connection is lost, and the reader begins to back away.
You can read the interview in its entirety here.
-JAMES MUSTICH