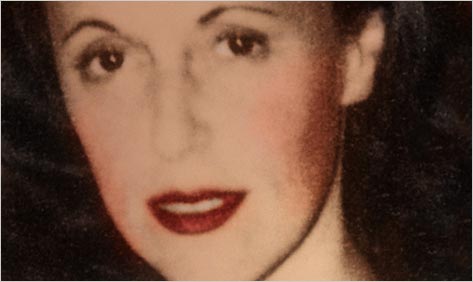 Nica's Dream is David Kastin's small but often good biography of a European aristocrat who made a new life for herself in America following World War II. Kathleen Annie Pannonica Rothschild de Koenigswarter was a supremely well-to-do British Rothschild at birth in 1913, but became a baroness by marriage and was known as such in the unexpected context she chose for herself, the nightlife world of New York jazz. Her childhood had the sort of suffocating luxury focused on manners, restraint, and impenetrable privacy that was as common to the most privileged aristocracy as it was bloodless, dehumanizing, and repulsive to the most sensitive among them. Her tendency was to do battle with those constraints and seek any opportunity to become a runaway.

In the process, she was awarded prizes for her artistic talent, studied in Paris and Germany, learned to fly a plane without maps, then married another wealthy Jew, Jules de Koenigswarter. Her future husband initially met her at an airport and was astonished by the casual bravery shown at the controls of the plane she had just landed. He was also a flier and soon became a war hero after he left their chosen home in Normandy and joined the Free French Forces. Together with their children, the Koenigswarters went back to England on one of the last boats preceding the German invasion.

Many of her relatives were not so lucky. A few died horribly as part of the "final solution" made manifest in the knee-deep human ash emptied on the ground of the woods surrounding concentration camps. Others survived and returned home permanently despondent. Never one satisfied to sit around, especially while the world was on fire, Nica went to Africa, broadcast war commentary on French radio, then became an ambulance driver for the Free French Forces in North Africa, reuniting with her husband. The week that Hitler committed suicide, she had come back to France and worked again in war medicine, separating the corpses from the wounded. That is more than enough for a Kate Winslet film, but far from Nica's whole story.

After 1945, she and Jules moved to Mexico in order to fulfill a diplomatic assignment, but Nica found herself compulsively attracted to New York for longer and longer periods, which finally destroyed their marriage. Upon hearing recorded selections from Duke Ellington's mammoth attempt to tell the black American story in his 1943 Black, Brown, and Beige, she discovered the beauty of jazz and those who made it. Given what experience had taught her about the ever-vulnerable frailty of life and the attendant illusion of safety, she found in blues, jazz, and the pulsation of swing, something understood only by special people: in order for true joy to achieve itself, it must contain the very states and moods being transcended—all the pain, all the hopelessness. In New York City, far above the dead metaphors and the frivolous distractions that the spiritually wounded members of her class too often mistook for fun, the woman found herself suddenly alive all the way up to the top, discovered her truest relatives in sensibility, and found what would be her lifelong mission: to help those in the jazz world as much as she could.

Nica had developed a high profile in the jazz community beginning in the 1950s, but was not an element of public attention until Walter Winchell and other professional lunkheads muddied the air with nasty innuendos. The stage whispers of neon sandpaper came forward so fast because a charming and charismatic friend, Charlie Parker, had died in her Fifth Avenue Hotel Stanhope suite, across the street from the Metropolitan Museum, in 1955. By 1963, she rose again from the hot and misty world of jazz when Time magazine put Thelonious Monk on the cover and she was photographed looking at him exactly like the enthralled patron of his that she had been for the previous ten years—and would remain until his death in 1982, five years before her own.

Kastin's book informs us about Nica's early life, but focuses on her associations with Monk and many other jazz musicians to whom she appeared as a fairy godmother from a world that they did not know or understand. What they clearly understood was how free of bias Nica was and how supportive she could be in providing a place where they could play their music, relax, get high, and live life as close to normal, in her company, as a black person could during her three decades as a patron. That she saw these people as human beings made her unique, though there were other white people, many of them Jewish, who could see the humanity of jazz musicians, good or bad, mysterious or profoundly clear. These people, accurately enough, were not decoyed by ethnic stereotypes or the inarticulate crust of slang and purported hip behavior considered a collectively cool dismissal of the puritanical manners of the time.

Usually seen out in the company of Monk, Nica became familiar through her expensive cars, her fur coats, her flask of Chivas Regal, her shoulder-length black hair, and her long cigarette holders. In the various hotel suites from which she was eventually evicted, the inspiration for many jazz songs arose in the all-night jam sessions that could go on from 3:00 in the morning until about 9:00, when all that was left were the musicians who had fallen asleep and the memories of those invisible notes that had appeared and disappeared as soon as they were played. Given all of that—which is not much information on which to build a biography—Kastin bases the bulk of his story on the relationship that Nica had with Monk, but gives too much attention to those in the art, literary, and film worlds who mistook jazz for something innately primitive or given to an anarchy that it did not have and would never truly develop as anything other than a side pocket of the art. Kastin does do a good job of telling where that relationship took both Monk and Nica as he emerged from beneath the sole of show business. The pianist-composer-bandleader became, for a very brief period, a jazz star, until his various mental problems turned him nearly catatonic for the last decade of his life.

Nica never abandoned Monk and chose to take a drug possession rap for him in Delaware during the fall of 1958. The arrest and the charge were as much about her being white and his being black as it was about the very small amount of marijuana found in the trunk of her Rolls-Royce. It could have led to her being deported, but neither Monk nor his wife, Nellie, with whom Nica was very, very close, ever knew about that. As she always did, Kathleen Annie Pannonica Rothschild de Koenigswarter stood her ground, asked for no favors, took life as it came, fought as best she could, and said no more than she thought necessary. She was terrified of losing her new home in a new country and only confided her inner trepidation in a letter to very close friend, Mary Lou Williams, the jazz pianist who had first introduced Nica to Monk in Paris during his first visit in 1954. The almost inseparable pair were never lovers, but their friendship had the kind of pathos, heroic but unsentimental optimism, and essential nobility that attracted her to jazz. Her story is as unlikely as the music itself, and contains the full measure of hard blues that all true jazz musicians, beyond school or style, dedicate themselves to blowing away in a magical starburst of swing.
Novelist, essayist and critic Stanley Crouch is a regular columnist for the New York Daily News. His writing on jazz and other subjects appears in numerous publications, and his books include Considering Genius: Writings on Jazz, Always in Pursuit, The All-American Skin Game, and Don't the Moon Look Lonesome?