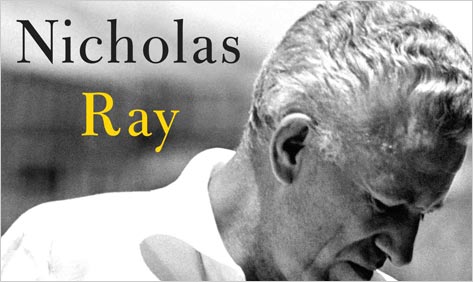 Nicholas Ray made a serious dent in the cinematic landscape with Rebel Without a Cause, the film he directed in 1955 and starring James Dean, Natalie Wood, and Sal Mineo about bruised and twisted youths headed for worse. You may also know him for a posy of noirish movies — They Live by Night, In a Lonely Place, On Dangerous Ground — or the maverick western gem Johnny Guitar. Five films of pungent originality that helped shape an art form and a generation's zeitgeist — hardly a shabby legacy.
So, then, why the "failure" in Patrick McGilligan's Nicholas Ray: The Glorious Failure of an American Director, a lush, panoramic story of Ray's progress? Because the films, all from early in his moviemaking career, showed such promise that went begging to booze, drugs, gambling, and a crushing measure of emotional insecurity.
McGilligan tells Ray's story with the air of a master of ceremonies. True to the form, he can be a touch ornate — "Ray and Lomax wended their way backstage and Lomax bent Guthrie's ear" — but what is so impressive is his talent to marshal and command a breathtaking amount of material: if Rolodex were still used to organize research, his would be the size of a Ferris wheel. He weaves together the facts to create sinuous narratives with both momentum and flair. This knack is on full display, for instance, in his handling of Ray's youthful progressivism, working with radical theater and radio, the WPA and the wonderful Living Newspaper shows; or when following the development of Ray's style, from the influence of Thornton Wilder, Leopold Sulerzhitsky, Elia Kazan, and John Houseman; or his search for purity, realism of feeling, and pictorial expressiveness; even his embrace by the French and auteurism — the director as author, writing with a camera.
While the nimble arrangement of facts is McGilligan's long suit, their interpretation could have used more help. It would have been nice to gain some understanding of Ray's abandonment of progressive politics and drift from auteurism to the "bloated super-spectacle," or of how someone as reactionary as Howard Hughes (who owned the studio where Ray worked) became so close to the then-left-leaning Ray. And though McGilligan pokes at Ray's possible bisexuality, it is hard to know where this would lead even if it were nailed down. Ray was notoriously runic and stymied by his struggle with self-expression, so there was little help from that corner. Credit McGilligan — who has written biographies of Fritz Lang, Alfred Hitchcock, and Robert Altman, for starters — for at least raising the questions, even if he found the air too thin from which to pull insight. Houseman, however, puts Ray into a nutshell: "garrulous and inarticulate; ingenuous and pretentious; his mind was filled with original ideas which he found difficult to formulate or express. Alcohol reduced him to rambling unintelligibility," but, still, possessing an intuitive "sureness of touch, a sensitivity of human values, and an infallible taste."
Where McGilligan simply shines is in creating the godawful atmosphere of Ray's slow deliquescence. There were the one-offs that left their scars, as when Ray walked in on his son from his first marriage, then thirteen years old, busy in bed with his second wife. But mostly it was the themes: enough booze and drugs to choke a horse (over and over again), the ruinous gambling, the loneliness and professional setbacks, the pathological womanizing that complicated everything, life and art. His first wife said he was a "wonderful man, not to be married to"; another lover drove her car through the wall of his house, with murderous intent; numerous movie sets were unpleasantly electric with his ill-considered affairs.
The tragedies of the human condition and love gone wrong were the meat and potatoes of his oeuvre, and Ray ate of himself.