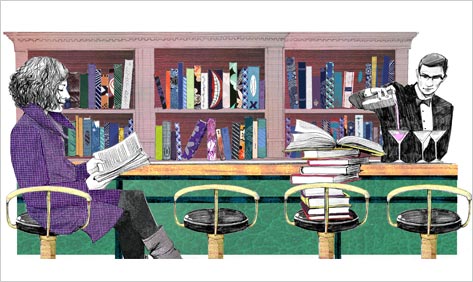 Following guest? Register Four—right down here. I can ring you up…
Hello! Did you find everything you were looking for today? Did any of our team members assist you? Do you have a store loyalty card? That's all right; I'll swipe mine. Just the pack of Juicy Fruit? Okay, your total is forty-nine cents. You saved three cents this visit. Here's your receipt… and if I could just direct your attention to the back of the receipt, you'll see that we're inviting customers to complete an online survey. You could win a dollar or even two dollars to spend at any of our locations, of which so far there is just one. This one. But there will be more, as soon as the the construction here is completed. We apologize for the noise, and the survey will automatically adjust your responses to factor in, and then factor out again, a jackhammer annoyance multiplier.
You'll see, right here, that the web address for the survey is storesurvey.biz/survey/store/your-survey-is-our-survey/dont-worry-this-will-end-soon.html. Your individual survey code is 1440-3017-762, your password is 1130-3190-324, and your Social Security Number is 085-63-2026. What's that, sir? I don't know. It must be in our system. I… I really have no idea.
The survey—which will definitely take less than a full hour, but which must be completed in a single session to be counted and for you to avoid an automatic surcharge on this purchase—will ask you some questions about your experience in our store today, including whether you found everything you were looking for, whether you were assisted by any team members, whether you have a store loyalty card, and whether you were asked all of these question at checkout by a cashiering associate. You will also be asked whether the cashiering associate offered to use his or her own store loyalty card if you did not have one, whether you were given the correct change, whether you were given a receipt, whether you were invited to take an online survey, and whether the cashiering associate smiled during the entire checkout process, regardless of any personal sadness in his or her own life, which store team members are expected to leave outside the employees' entrance. There will also be some questions about your ethnicity, annual household income, education, sexuality, criminal history, and allergies, all for demographic research purposes only. You might be asked to confirm your Social Security Number.
One section of the survey asks you to rate, on a scale from 1 to 10—with 1 being "least totally satisfied" and 10 being "most totally satisfied"—certain aspects of your shopping experience today. We ask that you please keep in mind as you answer the questions that anything 8 or lower might as well be a "1"—only a 9 or 10 will be considered "positive feedback." That said, if you are tempted to give us an 8, specifically, for any one question, do not give us a "1" simply because of what I just told you, in what we call official confidence, because a "1" will really be considered a 1, where as an 8 will only be considered a "1," and it would still be better for us to get an 8 than a real 1. But please give us at least a 9 on each question, as I have just said but am required to repeat at this time. "Nine is fine," as we have been instructed to say, "eight'll be fatal." (Some bend the rules and say, "Eight isn't great," or even, "We hate eight," but neither has been approved by Corporate Headquarters.) Please do not give us all 10s, however, because that looks fake. Even if you are completely most totally satisfied with your experience today.
There will also be a section asking for essay-type responses to various questions. The questions are chosen at random, so I can't tell you what would constitute a "good" or "correct" answer, but what I can and in fact am supposed to tell you is that each response must include a minimum of 250 words, or else it won't be counted, and I am also supposed to tell you that the words in your essays will not be read, only counted. In other words, you can't just write "Kimia was really helpful" or "Kimia deserves a raise for being so good at her job." Yes, my name is Kimia. Is my nametag not visible? Well, here—it's visible now, so you can answer in the affirmative the question, "Was the nametag of the cashiering associate visible?"
When you have completed the survey, you should then immediately scroll down to the survey about the survey and respond to it. When you submit both surveys to us, we will send you a survey about your experience of your experience of filling out the survey about the survey. Thank you for your patronage. Enjoy your gum!
Matthew David Brozik is co-author of GOOROO'S *PRO*-MAGNON KITCHEN, a culinary manual for the enlightened caveperson (yes, it's a parody), available now for NOOK.