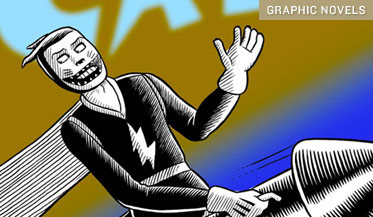 Fans of comics — or "graphic novels" or "pictorial narratives" or "sequential art," or whatever latest coinage might currently seek to avoid the d?class? connotations of the term "comics" — tend to regard the production of the 1930s and 1940s as the "Golden Age" of the medium — at least in America. This was the era that birthed the superhero, of course — Batman and Superman and Captain America and the Submariner, followed by a flood of capes and masks — but also the period that saw a wild exfoliation of genres paralleling the pulp magazine categories: westerns and spysmashers, science fiction and air aces, jungle tales and magicians, funny animals and spooky monsters, "all in color for a dime." Archie and his pals sold over a million copies every month, and the War Department regarded comics as an essential part of a soldier's kit.

But while this historical designation does capture a certain genuine prelapsarian bliss associated with that era — a radiant nostalgia that overlooks sloppy, juvenile scripts and amateur artwork — it has become highly inaccurate in all other respects. As critics such as Tom Spurgeon have affirmed: judging by the sheer volume of wonderful new comics available (as well as readerly access to lavish yet inexpensive reprint editions) and by the incredibly high standards of artistic craftsmanship and storytelling brio of the modern creators, we are currently inhabiting the true Golden Age of comics. And the four books discussed below admirably illustrate this thesis.

When writer Alan Moore and artist Kevin O'Neill created the first two adventures of their League of Extraordinary Gentlemen, starting in 1999, their aims seemed modest, albeit quite recondite. With typical postmodern panache, Moore postulated a continuum askew from ours wherein many — perhaps all — of the fictional characters and places and events of our timeline's literature existed in stark reality. He assembled a stellar cast of stars and ancillary characters — including Bram Stoker's Mina Harker and H. Rider Haggard's Allan Quatermain — and put them through some ripping old-school melodramatic adventures involving, first, Conan Doyle's villain Professor Moriarty, and, second, H. G. Wells's Martian invaders.

The latest offering in the LoEG series, Black Dossier, is both an exfoliation of this concept and yet something of a placeholder, insofar as the whole narrative arc of the series is put aside. The actual adventures of the literary comrades are set to conclude in the forthcoming LoEG: Century, where the action will span the years 1910 to 2008. But meanwhile we track Mina and Allan during an interlude in 1958, in an England emerging from the shadow of Orwell's Big Brother. Their frametale finds them stealing the eponymous secret government dossier that holds primary- source evidence on all League activities extending back down the centuries. Reading over the shoulders of Mina and Allan, we get a bricolage of pastiches, ranging from a lost Shakespeare play to a Wodehouse-meets-Lovecraft story; from a Tijuana Bible to a comic strip about Virginia Woolf's Orlando; from new adventures of Fanny Hill to a Beat odyssey penned by Kerouac's Sal Paradise.

Moore's magpie ear for the various styles is impeccable, his powers of invention prodigious, and O'Neill's assured art is chameleonic. The allusions and eyekicks abound — enough to inspire pages of fannish annotations on the Web. But the sheer overstuffed dazzlement of this encyclopedic montage storytelling precludes total immersion by the reader. Ultimately, unlike its predecessors, Black Dossier is Galatea still in marble, not flesh: more to be admired than loved.

Cartooning is in Kim Deitch's very blood. His father, still flourishing, is Gene Deitch, creator of such animated icons as Tom Terrific. The son is no mean hand at giving birth to totemic figures either, having created at least one such during his underground comics stint in the '60s. I refer to Waldo the Cat, an impertinent trickster whose proudly displayed genital nubbin is a perpetual calculated affront to whatever ghosts of the Comics Code Authority still haunt the industry.

Waldo's presence radiates ominously at the core of Deitch's newest, Alias the Cat! But there is so much more to this intricately braided tale than Waldo alone. Like Robert Crumb, Deitch is in love with all the oddball, crackpot, mass-media cultural detritus of the early 20th century. From the forgotten fads and passing fancies of the hoi polloi — stuffed toys, silent film serials, a town in New Jersey dubbed "Midgetville" — Deitch assembles a paranoid conspiracy plot akin to something out of Pynchon. Like that master patterner John Crowley, Deitch presents scraps and tidbits in non-linear fashion to tell the story of Malek Janochek, an immigrant to America in the 1910s, who becomes a prototypical superhero known as Alias the Cat, with the mission of fighting warmongers and capitalist swine.

Deitch's art explodes across the page in extravagant layouts. Possessing the rude vitality of some primeval Hearst newspaper strip, his characters — including portraits of Deitch and his wife, adding metatextual autobiography to the weave — exhibit a wide range of emotions and actions. Part love story, part historical revisionism, part descent into madness, Alias the Cat! is all entertainment.

The Malaysian cartoonist Mohammad Nor Khalid (born 1951), who employs the pen name of Lat, embarked on a professional career at the age of 13 and has since become famous in his native land for a succession of well-received books and editorial cartoons. Yet here in the USA, Lat made his first appearance in translation only in 2006, thanks to the farsighted fledgling publisher First Second, who issued his Kampung Boy. This autobiographical tale depicted the life from birth to age 10 of a charmingly innocent village boy bearing the rather transparent stand-in name of Mat. Replete with humor and pathos, Kampung Boy showed American audiences that they had been missing work by an outstanding artist, a fellow who could utilize with seemingly intuitive grace all the potential of the medium.

Now comes the sequel, Town Boy. Mat and family have moved to the modern small city of Ipoh. Here we follow him into his late teens, as he discovers his gift for drawing and has romantic and collegial adventures of a naturalistically low-key sort.

Lat's fluid style calls to mind such artists as Sergio Aragones, Peter Birkett, R. O. Blechman, and Bill Plympton. Primarily a humorist, he depicts people with fond exaggeration and wiggly energy. His frequent use of panoramic two-page spreads captures a wealth of vibrant homely detail. The restaurant run by the family of Mat's Chinese pal Frankie practically leaps off the page.

This series has the same richness and flavor as Satyajit Ray's Apu trilogy of films, but with a comedic lightness of heart.

Artist and writer Bryan Talbot uses the phrase "magical mystery tour" at one point in his vast and lush "entertainment," Alice in Sunderland, and that psychedelic allusion is probably the best way to categorize this phantasmagorical, long-gestating masterpiece. What begins as a free-associating meditation, in the manner of a chatty Baedeker, on a place and a person — the city of Sunderland, England, and the writer Lewis Carroll, who had many associations with the burg — quickly exfoliates in an organic fashion to include captivating riffs on music, theater, politics, religion, racism, architecture, and a score of other themes and topics. Talbot's motto seems to be that of E. M. Forster: "Only connect." Like the inverse of a black hole, Talbot's white hole of a book spews out a jackdaw's hoard of fact, fiction and fancy.

The conceit of the telling finds Talbot himself, inked as a mutable caricature and standing center stage inside an old music hall, narrating to a loutish alter ego who is his sole audience. But Talbot's spritely drawings are the merest part of the elaborate presentation, which might be called "Photoshop Baroque." Using photos — both unaltered and manipulated — and the historical artwork of others such as Tenniel, Talbot constructs glorious, eye-poppingly colorful collages a little reminiscent of the work of David Mack. Talbot's skills in construction lead the reader easily and without confusion through the maze of imagery — much as Carroll's deft prose escorted the dazed visitor through Wonderland.

This book is the history of a love affair — the lifelong love affair between Talbot and the mindchildren of a host of creators, whether they worked in stone or ink, film or sound, blood or earth.