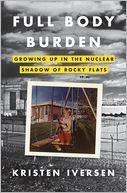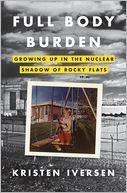 Dear Reader,
Kristen Iversen's Full Body Burden: Growing Up in the Nuclear Shadow of Rocky Flats is an unforgettable hybrid of investigative journalism and memoir that stopped me and the Discover selection committee readers in our tracks, and we knew almost immediately that we had to make Iversen's story of growing up in the shadow of family secrets and the Cold War a Summer 2012 Discover Great New Writers selection. The story of Rocky Flats needed to be told — in all its disturbing detail — and Iversen's thoughtful, honest voice and clear prose makes Full Body Burden a compelling, vital read that will appeal to fans of Jonathan Harr's A Civil Action, and previous Discover selections Refuge by Terry Tempest Williams and The Liar's Club by Mary Karr.
Kristen talks about the beauty of Colorado, the importance of keeping journals and taking action, among other things, with Discover Great New Writers.
Can you talk about the juxtaposition of the toxicity of Rocky Flats and the rugged beauty of Colorado?

Colorado is a beautiful state, and the area near Rocky Flats is especially stunning. The rolling hills leading up to the line of mountains, including the Flatirons, are very dramatic. People hike and bike and walk with their dogs. And the location is ideal — Rocky Flats is just minutes from Boulder and a short drive from Denver. Yet despite Colorado's reputation as a healthy state with an outdoorsy lifestyle, the truth is that there have been many environmental problems. Rocky Flats is simply the most notorious. The land looks beautiful, but there are places where the soil will be radioactive for the next 24,000 years. Also, contaminants escape into the local water supply and citizens question whether the site is being adequately monitored. As I write this, there is a controversy about plans to open portions of the former site of Rocky Flats to the public as a "wildlife refuge," despite some scientists' warnings that it remains unsafe.

Was there one moment when you knew you had to take action?

I have thought about writing this book since I was a child. Rocky Flats was such a mystery to me! After college, I lived in Germany for several years, and I wanted to be in Berlin when the Berlin Wall came down. As it turned out, I had to come back to the states just before that occurred, and I had to watch it on television. It struck me then that there was a connection between what had just happened in Berlin, and what was happening in Colorado at Rocky Flats. People thought the Cold War was over. But it wasn't over in Colorado.

The moment that really shook me, though, happened during the time I was working at Rocky Flats, in my thirties. I had just put my two sons to bed. I came downstairs and turned on the television, and there was a Nightline special on Rocky Flats. It was shocking. I learned that I was working next to fourteen tons of plutonium, most of it unsafely stored. The plant was a mess. Plant manager Mark Silverman was fairly forthright in describing the terrible state of the facility. To his credit, he felt that it was time to begin to tell the truth about Rocky Flats. (Sadly, Silverman himself died of cancer not long after his work at Rocky Flats.) How could I work at the plant and not know all these things? The next morning, when I went into work, some employees expressed shock and others thought the press was just exaggerating. That day I knew I had to quit, and I knew I would research and write a book. I wanted to understand the story — the whole story.

Explain your writing process. Did you use any of the journals you kept as reference while writing the book?

I've kept a journal since I was a small child. I was the kind of kid who had to write everything down — notes, stories, my experiences and feelings — so I had a wealth of personal material to draw upon. I worked at the plant for a short time to support myself and my two children while I was in graduate school, and during that time I quietly took notes on everything. I felt like a Cold War Harriet the Spy. I write to remember and understand.

This book involved twelve years of research and writing, and the bulk of the research was investigative. I read court documents, technical reports, EPA and DOE documentation, and all of the Rocky Flats interviews — dozens and dozens — held at the Maria Rogers Oral History Project at the Carnegie Library in Boulder, Colorado. I conducted dozens of new interviews myself. It was a huge project to weave all of this information together, make sure it was accurate, and tell a good story.

Your book reveals the repeated instances in which the effects of Rocky Flats were hidden or downplayed by Rockwell International, Dow Chemical, and the DOE (Department of Energy). How was this possible? And, why did this happen?

The Atomic Energy Commission — which later became the Department of Energy — was established after World War II. Its primary purpose was to develop the U.S. arsenal of nuclear weapons and test nuclear bombs. There was no environmental regulation or oversight. Due to Cold War secrecy, most AEC operations — and their effect on the environment and local populations — were completely unknown the public. It wasn't until the 1970s that nuclear weapon sites were forced to comply with environmental laws and regulations, though even then they often skirted them. Private operators of U.S. weapons plants, like Rockwell and Dow Chemical, operated on a for-profit basis and were not held legally or financially accountable for accidents, leaks, or problems. Production was the only thing that mattered. Even after the EPA was established, nuclear weapon facilities argued that they should be exempt from EPA regulation.

Who have you discovered lately?

I'm currently reading The Partnership: Five Cold Warriors and Their Quest to Ban the Bomb by Philip Taubman. It's a fascinating look at how five bipartisan figures — Henry Kissinger, George Schultz, Sam Nunn, William Perry, and Sidney Drell — worked to shape nuclear strategy during the Cold War and beyond.
Cheers, Miwa
---

Miwa Messer is the Director of the Barnes & Noble Discover Great New Writers program, which was established in 1990 to highlight works of exceptional literary quality that might otherwise be overlooked in a crowded book marketplace. Titles chosen for the program are handpicked by a select group of our booksellers four times a year. Click here for submission guidelines.