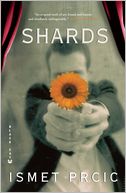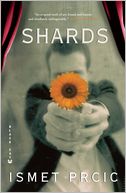 Dear Reader,
A quick post from the West Coast, after the 2012 Los Angeles Times Festival of Books, one of my favorite events of the year — it's marvelous to see so many readers of all ages and authors together on the campus of USC.
Ismet Pricic picked up another award for his debut novel Shards, a Holiday 2011 Discover selection on Friday night (the post about him winning the Sue Kaufman prize a month ago is here) and we couldn't be more pleased.
Prcic wasn't the only author with a Discover Great New Writers connection appearing at this year's Festival: 2011 Discover Awards winners Scott O'Connor and Alice LaPlante, Cheryl Strayed, Ben Loory, Claire Bidwell Smith, Julie Otsuka, John Freeman, Hari Kunzru, Ayad Akhtar, Peter Cameron, and Jonah Lehrer. And I had the distinct pleasure of sitting on a panel with Bonnie Nadell, agent for Discover alum Michelle Huneven and David Foster Wallace, among others, and Dan Smetanka, the editor behind Christopher Bollen's Holiday 2011 Discover selection Lightning People, with David Ulin moderating.
It's foggy and grey here this morning, all the better for finishing up some more f the reading I need to do for the Fall 2012 Discover Great New Writers season…
Cheers, Miwa
---

Miwa Messer is the Director of the Barnes & Noble Discover Great New Writers program, which was established in 1990 to highlight works of exceptional literary quality that might otherwise be overlooked in a crowded book marketplace. Titles chosen for the program are handpicked by a select group of our booksellers four times a year. Click here for submission guidelines.