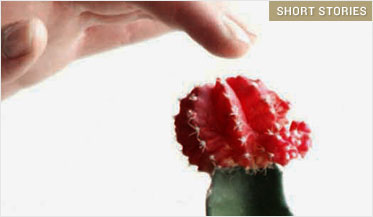 There is a kind of storytelling we're used to that fits neatly into one-hour blocks, where justice is served, problems are surmounted, and the worthy are redeemed. Some books are just the same. But one of the glories of literature is that it's bigger than those glossy packages; that it's open-ended and messy and complicated and uncomfortable and its characters can be flawed without being villainous and there is no pressure to resolve to a happy ending. At least, some literature is like that, as is Antonya Nelson's Nothing Right.

It's something of a paradox, then, to note that the stories in this volume fit together so well that "Nothing Right" feels complete, a fully matched set. That's because of the stories here are, in one way or another, about a time of in-between. It's not what we're trained to expect from short stories, which with their compact size are built for speed, tight epiphanies and decisive character change. But Nelson — the author of three novels and raft of carefully wrought short stores — works against that convention in this new collection. She's going for the moments where nothing really happens, or when we have to live with the consequences of what has happened before.

In "Party of One," a woman meets a man in a bar (there are many women in these stories, and nearly as many bars). The woman, Emily, is there to convince the man to make his breakup with her sister as gentle as possible. We learn that her sister tried to commit suicide after her last breakup; that the man who dumped her last time was Emily's (now ex-) husband; that Emily, unbeknownst to her sister, has cancer.

Lots of important stuff goes on, but those big, heightened moments just flicker across the story. Instead, Nelson focuses on the discussion, flirtation and, finally, animosity between Emily and her sister's almost-ex-boyfriend. Emily has to live with her past and with her limited future; when she is reckless and intolerant, we understand that she is beginning to fill with the righteousness of the condemned. Like less whimsical versions of Tom Stoppard's Rosencrantz and Guildenstern are Dead, Nelson's stories dwell in the spaces that fiction typically skips over.

There is much waiting. In "Kansas," a teen disappears with her toddler niece and the extended family — a slightly down-at-the-heels crew of drinkers and reluctant parents — gathers, spending days and nights hoping for the children's safe return. In "Falsetto," a much older sister returns home after her parents are hurt in a car accident; she rattles around their remote house with her too-smart adolescent brother and her comparatively dopey boyfriend, finding herself anew between those two poles. One of these stories ends with terrible news; the other does not. Both are set in the suspended days before some decisive ending, days that are less informed by the looming crisis than by the everyday business of eating and sleeping and trying to live with one another.

Other tales emerge from lives that are stalled, drained of love. Mimi, the protagonist in "Biodegradable," makes research grants to colleges and sparks up an affair — her first — with a grant recipient who reminds her of someone else. But one day, she swiftly and emotionlessly ends it. "She blocked his address so that his e-mails wouldn't reach her; it seemed she did the same with her love, simply turned it off. This mystified her: it was as if her need for him had produced him, full-blown familiar stranger, and now the need was gone — without a trace, no harm, no good, as if it had never existed." The entire affair may have been a rehearsal for that someone else, the figure that cast an original shadow of familiarity.

In "Shauntrelle," the life of recently divorced, recently un-philandering Constance is not so much preparation as holding pattern. She moves into a generic, fully furnished corporate apartment; it comes with couches, linens, silverware, and someone else's — Shauntrelle's — obscure emotional drama. It even provides a roommate, Fanny Mann, a cheery southerner in town for a gantlet of cosmetic surgeries. Always swathed in bandages, she jokes that she's like the Invisible Man, that Constance wouldn't be able to recognize her on the street. "I sure wish I could show you a Before picture," Fanny muses, "so you could fully appreciate what's going to come After." Like Fanny, Constance is between Before and After, a ghost who is not yet ready to enter her new life, whatever it might be.

But as much as the characters are in-between, we get glimpses of vital movement around the edges, an almost-becoming. In the title story, an unemployed, divorced mother who's a little too fond of wine is trying to manage her younger son, a teenager straddling the line between mischievous and troubled. Her older son, still smarting from his parents' divorce, accuses her of cruelty toward her husband: she replies, "It's not mean not to love somebody," but she's not entirely sure she's right. Sadie in "DWI" is on the other side; her lover turned off his feelings for her "like a faucet," but she can't do the same. "Now it seems she will never be able to shut that valve, end that leak that will not cease."

These characters, despite themselves, long to connect. An unbalanced student accompanies a professor to his extended family's holiday celebration, enamored with his wife, in "OBO." Family members secretly snicker over an imperious sister's online dating travails, but no one is above, as the professor sees it, the pathetic quest for love. The tale "Or Else" follows a too-charming man as he brings a new woman to a Telluride cabin that belongs to someone else. When his nested lies come to light, rather than backing away she offers him a quiet, almost inexplicable kindness.

Populated mostly by adults in midlife, these stories are told with detachment, as if the narratives themselves are withholding emotion, not ready to commit again. But, as Emily understands, "his kind of distilled pain could only come from sublime pleasure." She pictures "a huge shade tree, under which grew a root system as knotty and veiny and vast as the tree above, mirrored there in the subterranean dark." These stories are set in the pauses before the roots claw beneath the surface, or the characters extend their soft green tendrils, again, toward the sky.