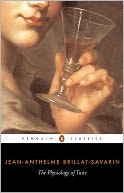 April 1: Jean Anthelme Brillat-Savarin, the French lawyer, politician, and gastronome, wasborn on this day in 1775. Brillat-Savarin led an adventurous life—at first arespected spokesman for the Revolution, then exiled in America with a bounty onhis head—but he is famous for his classic of the culinary arts, The Physiology of Taste. Published justbefore his death in 1826 and never since out of print, the book attracts thoseinterested not just in food but literature and history. Some consult it for practicaladvice, often couched aphoristically—"A dinner which ends without cheeseis like a beautiful woman with only one eye." Many enjoy the book more forthe tone conveyed by its subtitle, "Meditations on TranscendentalGastronomy." The meditations range from the erotic qualities of truffles,to a theory of frying, to eggs in meat juice, to "the pleasures of thetable":
Best of all, everymodification which complete sociability has introduced among us can be foundassembled around the same table: love, friendship, business, speculation,power, importunity, patronage, ambition, intrigue; and this is why convivialityis a part of every thing alive, and why it bears fruits of every flavor.
The conviviality principleis reflected in many of Brillat-Savarin's anecdotes, one of which is a "faithfulaccount of the lengthiest meal I ever ate in my life…a little bonbon which Ishall pop into my reader's mouth as a reward for having read me thus far withsuch agreeable politeness." Hosted by Brillat-Savarin for a family ofcousins living next door, the meal begins mid-morning with a leisurely oyster-and-Sauternebreakfast, "so frequent and so gay in the old days." The talking,walking, napping, and eating continue for the next ten hours—grilled kidneys, fondue, Parmesan soup, roast meats,punch & zwieback, mocha & liqueurs….
In honor ofBrillat-Savarin's birthday, and with a nod to April Fool's Day, the InternationalEdible Books Festival is celebrated on or about April 1st. Hosted inmany cases by local libraries, the festival gives reader-cooks the chance toconcoct and share book-dishes based on literary puns—"Smore & Peace,""To Brie or not to Brie," and the like.
---
Daybook is contributed by Steve King, who teaches in the English Department of Memorial University in St. John's, Newfoundland. His literary daybook began as a radio series syndicated nationally in Canada. He can be found online at todayinliterature.com.