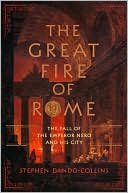 On this day in A.D. 64 Nero played the lyre — the fiddle was not yet invented — while Rome burned. But Nero's lyre playing, says the respected contemporary historian Tacitus, was in Antium (now Anzio) on Italy's west coast, the emperor returning to his hometown to participate in a musical competition. Upon learning that Rome was in flames, Nero not only immediately returned but helped to organize the firefighting efforts and to shelter the homeless. Again, according to Tacitus; other historians, writing later and regarded by modern scholars as less reliable or more anti-Nero, are responsible for describing him as in the capital, playing and singing music, actions synonymous with heartless indifference:
He secretly sent out men who pretended to be drunk or engaged in other kinds of mischief, and caused them to first set fire to one or two or even several buildings in different parts of the city, so that people were at their wits end, not being able to find any beginning of the trouble nor to put an end to it. (Cassius Dio, A.D. 150-235)
Tacitus, Dio, and many modern historians do agree upon the truth of another source of Nero's legendary vilification, his persecution of the Christians in an attempt to pass on his own scapegoating for the fire. The revisionist view, most recently expressed in Stephen Dando-Collins's The Great Fire of Rome (2010), is that this too is a slander against Nero, one possibly perpetuated by later Christian scribes who inserted some sect-serving passages into the original account written by Tacitus, long lost.

Whoever set the match or played the liar, almost two-thirds of Rome was destroyed. Even more compelling and instructive, says Dando-Collins, is "the political fire unleashed in its wake and which led to the destruction of the Caesar dynasty":
Nero's fame and popularity were at their zenith with the ordinary Roman people. How is it then, that within four years of the Great Fire, Nero would be deserted by his people and forced to flee his throne? What changed the public's attitude toward, dampened their ardor for, and destroyed their loyalty to their young emperor, the last member of the revered family of the Caesars?
---
Daybook is contributed by Steve King, who teaches in the English Department of Memorial University in St. John's, Newfoundland. His literary daybook began as a radio series syndicated nationally in Canada. He can be found online at todayinliterature.com.