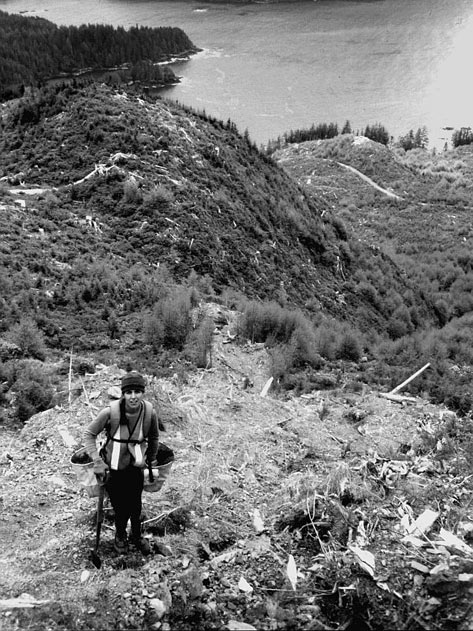 Dear Reader,
We're still whooping it up for Charlotte Gill's electrifying memoir, Eating Dirt, and we're not alone:
"It is hard to say why a book that is full of mould, sodden clothing, overdoses of sugar and carbs, bad weather, grizzly bears, cream and crud, broken-down trucks, blisters and tiny seedlings shoved into the ground should be engaging, rewarding and full of knowledge, but it is." — William Bryant Logan, The Globe & Mail
"Eating Dirt is at its most fascinating when Gill considers not only the human relationship with forests (the removal of which has gone hand in hand with the growth of human civilization since its beginning, with the now-dwindling North American timber supply representing the last large-scale wood source on the planet), but the relationship between trees and the environments in which they live.
"It is a difficult story to tell, with the pedestrian details of life as a piecework labourer commingling with complicated economic history and grand themes of natural wonder and planetary evolution. It is a testament to Gill's skill — and her eye for details both heartbreakingly human and imposingly wild — that she weaves these together in a satisfying whole." — Michael Lawson, Weekend Post (Canada)
Here's Charlotte on planting trees, learning to write, and living in a world where "beauty and discomfort existed in equal measure."
ON ACCIDENTAL ADVENTURES

By Charlotte Gill

I used to be a professional tree planter. My job was essentially this: after a big tree is cut down, a new seedling is planted in its place. This work is done by women and men, by hand and on foot with rudimentary tools, as it has been done ever since ancient civilizations invented silviculture. Even now it's a tough, dirty job. The setting is clearcuts. Often enough, the terrain is so steep and rough that traversing it requires special spike-soled boots. It's the kind of walking that has made me revisit, on many occasions, a childhood wish to fly. This is our workplace — the sharp, cluttered aftermath of a forest brought low.

Nothing in my upbringing prepared me for hard physical work. I grew up in an upper middle class family. Even now I'm not prone to extreme expeditions. I'm more comfortable in a cardigan than in a survival suit. I'd rather cook dinner than climb a mountain. And yet that's exactly what I did for almost twenty years, day after day, in spite of my natural inclinations. Planting trees was my day job while I was learning to write. But certainly there are better ways to make a living.

The photo that you see at the top of this post was taken on the rugged shores of the Pacific Northwest. I was still in my twenties. That day I'd been dropped off, quite literally, by a helicopter on the side of a mountain that had been shorn on all sides by extensive logging. Winter rains had pelted the mountain for several seasons, and as a result, a chunk of the hillside had sloughed away. My crew and I, we planted seedlings whose roots might stabilize the eroding slope.

I don't look very happy in this photo. Before dawn I'd spent several carsick hours in a pickup truck rattling down a rutted, twisty road. It was the kind of mission tree planters learn to hate. This one involved a long commute, fussy, specialized handiwork, uphill slogging, and not too much money, since tree planters are paid by the tree.

When I think about it now — from afar — scenes like these might be some of the most important work that tree planters do. It's small scale, invisible, and often underpaid labor, a communal work of rehabilitative stitches in a giant fraying tapestry.

I planted more than a million trees. It may seem like a lot, but I've met many people who've doubled and even tripled this number. Each little seedling means nothing on its own, but perhaps they add up to something bigger. That's my kind of metaphor. Tasks that seem, at first glance, not worth the calories expended. More trouble than reward. But in retrospect, dirty jobs and tangential endeavours have produced some of the most remarkable times in my life. I think of them as accidental, occupational adventures.

Though my job was grubby and menial, I visited all kinds of wild landscapes. Every day was a northern safari. When else might I cross paths with a moose, a gentle beast chomping thoughtfully on bog greenery while treading through a patch of brilliant swamp irises? More than once, I have seen sea lions and grizzly bears on the same day. Once I saw sea lions, bears and was caught at sea in a storm so ugly it bruised the sky — all in one commute. I saw animals and I didn't even know what to call them. Strange birds with crooked white necks. Without doubt I've unwittingly stepped on several types of rare, endangered plant. Like any tree planter, I've also stepped on hornets' nests. I've experienced trench foot and beaver fever. I've had my share of hypothermia.

Surely there isn't much physical pleasure to be had planting trees. But neither is there any luxury in a trip up Mount Everest, or down the Trans-Amazonian Highway on a mountain bike, or on an Arctic expedition by kayak. And yet people do these things almost daily. To what part of the human brain do these plot twists appeal? Maybe I'll call it the adventure gland, an imaginary organ that exists halfway between the adrenals and the cerebral cortex. Between pleasure and pain, fear and total calm.

You'd think that all this outdoor exposure would make humans harder, more rigid, but in my case at least the opposite is true. Wild adventures take us away from the comforts of home and into an enforced simplicity. Maybe we're trying to tame ourselves. Or teaching ourselves to be more like wood, nature's wonder polymer, which is as strong as it is flexible. I sometimes think my old job took me out of my old, plain life and into another world where beauty and discomfort existed in equal measure. Where life was raw and strange and elemental. Miserably, incandescently so. — Charlotte Gill

Cheers, Miwa
---

Miwa Messer is the Director of the Barnes & Noble Discover Great New Writers program, which was established in 1990 to highlight works of exceptional literary quality that might otherwise be overlooked in a crowded book marketplace. Titles chosen for the program are handpicked by a select group of our booksellers four times a year. Click here for submission guidelines.