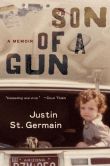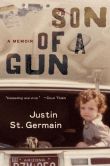 Dear Reader,
We see a lot of memoirs in the Discover reading room, but it's only the truly great ones, like Wave and This Boy's Life, The Liar's Club, The Tender Bar, and Wild, with their electric prose, keen-eyed observations, and undercurrents of grief – sometimes elegiac, sometimes open and messy, often stultifying – that makes the hair stand up on the back of readers' necks.
I couldn't help but be reminded of the raw, relentless honesty and emotional resonance of those earlier Discover picks (as well as Wolff's second memoir,In Pharaoh's Army and Nick Flynn's Another Bullshit Night in Suck City) while I was reading Justin St. Germain's Son of a Gun, his eloquent and affecting memoir of his mother's life and brutal murder, in Tombstone, Arizona.
Son of a Gun opens with the news of Debbie St. Germain's murder – followed by Justin's decision to play in a softball game the next day:
"That night's prayer was oppressive. I stood staring down at the dusty home plate, with my hat beneath my arm and a stranger's sweaty palm pressed against mine, listening to an error-prone second baseman preach about our great and just and loving God. At the end he said something about those of us suffering hard times and I wondered if he knew.

When it was over, I grabbed my glove. I played left and liked ranging the outfield. The bats would ping and I'd be off, tracking down the deep fly ball at the fence, snaring a liner to the gap, trying to throw out runners at home. For a moment I'd forget that it was a coed church league, that the person I'd just robbed of a double was somebody's aunt. I'd forget the score, the number of outs. I'd forget about school and work, forget my name, forget who I was. The whole world shrank down to a field of grass, and I'll I had to do was catch the ball."
Justin St. Germain continues his meditation on baseball and grief in a guest post on the Discover blog.
On Baseball and Distraction

Almost five years ago, when my agent was shopping the memoir proposal that would become my first book, I talked to a handful of interested editors on the phone. The prospect of discussing fifty first-draft pages with strangers, each of whom would have ideas about what the finished book should look like, made me nervous. It didn't help that the book was about my mother's murder, an event I still had a hard time acknowledging, let alone writing about. In fact, I was so nervous that I was prepared to agree with almost anything an editor suggested about the book's form or direction.

Almost anything. During an otherwise agreeable conversation with one editor, he made an offhand comment that the baseball stuff needed to go. I didn't question his editorial chops — his past projects impressed me — but I knew I couldn't work with him. He just didn't get it. As strange as it may have sounded, baseball wasn't a tangent in the story of my mother's murder: it was an essential part of my grieving process. After her death, while I was trying to go on living a normal life as a college kid, I tried a lot of ways to distract myself — school, work, alcohol, sex, you name it — but it was baseball, more than anything else, that got me through.

He was referring to a scene from the first chapter in which I play softball the day after hearing the news of my mother's death. Her property was still a crime scene, and there wasn't anything to be done until the cops were finished. I'd spent most of the previous day with my older brother and roommate, sitting in the living room of the house we shared in Tucson, trying not to talk about it. When I remembered that I had a doubleheader that night, I decided to go. It wasn't baseball, exactly, but it was the closest thing I had, and playing the games that night allowed me for the first time to forget, however temporarily, that my mother was dead.

In the months to come, while her suspected killer was on the loose, I became a bigger baseball fan than I'd ever been before. She died near the end of the season, as my homestate team, the Arizona Diamondbacks, was mounting a playoff run. I wasn't a Dbacks fan — I was born in Philadelphia and had remained loyal to the Phillies — but I watched every game on TV as they won their division and advanced in the playoffs. Still, it wasn't until Arizona faced Atlanta in the NLCS that I really jumped on the bandwagon.

By then it was mid-October. My mother had been dead a month, my stepfather Ray was still missing, and we no longer doubted that he was the one who'd killed her. One of Atlanta's best pitchers, John Smoltz, happened to look strikingly like Ray. I'd never liked the Braves, but that fall, as I watched the spitting image of my murderous stepdad close win after win, I really started to hate them. When Arizona beat Atlanta, knocking them out of the playoffs and mercifully removing Smoltz from my television screen, I became a Diamondbacks fan.

A group of friends and I camped overnight on a sidewalk to buy tickets to the World Series, in which the Diamondbacks would face the Yankees. We went to Game Six. It wasn't very dramatic — Arizona won 15-2 — but we had a hell of a time. In the pictures from that game, my friends and my brother and I smile and hug, wave souvenir towels, hold massive beers aloft. We're surrounded by cheering fans, and it looks almost like how it felt: like they were all cheering for us to make it through. The next day, when the Diamondbacks won the Series on a walk-off single by Luis Gonzalez, I was the only disappointed fan in Phoenix: it meant that now I'd have to face reality.

Since then, I've often found myself using baseball as a distraction around this time of year. In October of 2008, when my agent was about to send the proposal out to editors, I flew to Philadelphia to watch the Phillies play in the World Series. My deadline for delivering the book was in September, and in the frantic weeks leading up to it I watched the Phils religiously. In the five years it took to write and publish the book, a period during which time often seemed to move like a knuckleball, I must have watched hundreds of games, live and on TV, and I marked my progress by the rhythms of the baseball season. —Justin St. Germain
Cheers, Miwa
---

Miwa Messer is the Director of the Barnes & Noble Discover Great New Writers program, which was established in 1990 to highlight works of exceptional literary quality that might otherwise be overlooked in a crowded book marketplace. Titles chosen for the program are handpicked by a select group of our booksellers four times a year. Click here for submission guidelines.