It's how you get there that matters.
---
As I Walked Out One Midsummer Morning
By Laurie Lee
19-year-old Laurie Lee set out from his home in rural England in the early 1930s, walking first to London, and then, after a short boat ride, across all of Spain. His wry, lyrical record of the journey established Lee among the most gifted travel writers of a generation that included such talents as Patrick Leigh Fermor. Playing violin along the way to earn his keep, he keenly observes Spain on the brink of Civil War, and his pedestrian vantage affords him a unique perspective on the conflict's effects on everyday people. The book becomes a a critique of human nature in the guise of a travelogue, enlived by youthful exuberance at every step.
---
Wanderlust: A History of Walking
By Rebecca Solnit
The mind, the body, and the world align when you walk, Rebecca Solnit suggests, in this lively history of ambling, sauntering, striding, even gallivanting. From philosophers aimlessly wandering the world to an incisive examination of people who drive everywhere (even down the block), Solnit chronicles walking's place in our past and speculates about its possibly threatened future.
---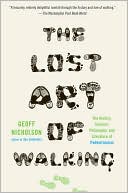 The Lost Art of Walking: The History, Science and Literature of Pedestrianism
By Geoff Nicholson
Nicholson unpacks humankind's most basic activity to reveal the incredible microcosms within walking. The experiences brought under his careful gaze are various: a Wonder Woman impersonator striding to work, "competitive pedestrians", and the visually evocative ven diagram overlap of nudists and hikers. What animates and draws together these diverse portraits is Nicholson's ebullient love for the act of walking itself.
---
By Rory Stewart
Afghanistan in 2002 isn't the first place you'd think to go for a stroll, but award-winning journalist Rory Stewart decided on just such a perambulation of the war-torn country, witnessing ancient communities torn apart and encountering teen soldiers as well as Taliban commanders. The result is an engrossing, sometimes harrowing, literary tour de force, in which Stewart's prodigious feat proves to be not an end in itself, but the means by which he can explore some of the region's true mysteries.
---
Born to Run: A Hidden Tribe, Superathletes, and the Greatest Race the World Has Never Seen
By Christopher McDougall
Searching for a cure for his sore foot, journalist Christopher McDougall stumbled across the Taramuhara Indians, a tribe living in Mexico's Copper Canyons renowned for its long-distance running, often more than a hundred miles at a time. A rogue's gallery of supporting characters accumulate as a young Taramuhara brave named White Horse tries to organize a 50-mile race between his tribesmen and the "ultrarunners" who spend time with the tribe to learn its secrets.