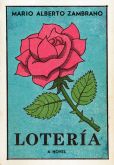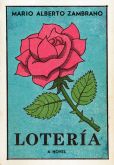 Dear Reader,
The Discover selection committee readers loved the language, the structure, and – most of all — the narrator of Mario Alberto Zambrano's striking coming-of-age novel, Lotería. She is eleven-year-old Luz Castillo, a ward of the state, with a family in tatters. Refusing to speak to the adults who wish to help her, she relies on a deck of illustrated Lotería cards to reveal her family's story. Zambrano's debut shares the visceral emotional power of We the Animals by Justin Torres, a Fall 2011 Discover pick, and Sandra Cisneros's modern classic. Lotería is clearly the work of an artist in full command of his craft. Readers may be surprised to learn that writing wasn't the young author's first artistic love, as Zambrano explains in a guest post on the Discover blog.
On Getting to Work

For a long time I thought I'd be a dancer all my life. I had my first contract when I was sixteen, bolted out of Houston where I was born and went to Chicago to start my career. I was starving then, ambitious for the dream, and never imagined my wish would actually come true—my future life in Europe; the opera houses; the international tours. All of it was granted and then the unexpected happened: I was knocked over with the realization that I no longer wanted to be a dancer. I wanted to create for myself. Being a choreographer didn't suit my disposition to create alone, so I quit. For five years I searched for something else I could fall in love with. Little by little, I found books. At thirty, I started a new relationship with writing.

Six years down the road, I had just moved to Iowa to start an MFA program. I was pushing myself to work every morning at a coffee shop upstairs from a bookstore. On good days I'd have to wait outside until the doors opened; I was punctual. One morning—I'd set my alarm for 7am—I pushed snooze. I was meant to be working at a table by 8am. The coffee shop was right around the corner, but it was 7:52. Now if I'd still been a dancer, I would've jumped up, put on a baseball cap and rushed to work to make it in time for barre. If I didn't make it in time I would've received a phone call from the artistic director asking, "Where are you? You're late."

That kind of accountability doesn't exist in a writer's life. One of the devastating truths about being a writer is that no one cares whether or not you show up. No one calls to say, "Where are you? You're late." It's your responsibility to get out of bed.

On that morning in Iowa this thought went through my mind and in a split-second I jumped up, put on a baseball cap and rushed out the door. By 8am I was sitting at a table ready to work. I'll admit, I felt a little silly. But the point is, I was there.

The following week the director of the program was sitting across from me as we were having lunch at Basta restaurant with a few other incoming students. She asked, "How's the writing coming along?" It was early in the semester and most of us were acclimating to the town and getting to know each other—for a lot of us, writing was the last thing on our minds. Some students mentioned they hadn't found time to write with the nerves of beginning graduate school.

The director mentioned a book written by Twyla Tharp—of all people!—a dance mentor and choreographer I'd personally worked with during my career as a dancer. In the first chapter of The Creative Habit, Tharp —who is known to be quite a workaholic—mentions that she wakes up at 5am every morning, puts on her sweats and gets into a cab. She says specifically that if she doesn't get into that cab, which will take her to the gym, it's over. The workday just won't happen. As long as she gets into that cab, she's fine.

Artists are particular and many have different ways of working, but that kind of discipline—to get up and get to work — is admirable. It inspires me, pushes me. It gets me out of bed.

It's no secret. Art isn't easy. It's hard, and it takes hard work to make it. It isn't exclusive to the dance world, but rather, inherent in any creative practice. I wake up in the morning believing that if I go to work and do the work, while practicing a bit of patience, something honest and true will rise to meet the imaginative world I'm trying to translate.

That's what I try to do — both as a writer and a dancer.

– Mario Alberto Zambrano
Cheers, Miwa
---

Miwa Messer is the Director of the Barnes & Noble Discover Great New Writers program, which was established in 1990 to highlight works of exceptional literary quality that might otherwise be overlooked in a crowded book marketplace. Titles chosen for the program are handpicked by a select group of our booksellers four times a year. Click here for submission guidelines.