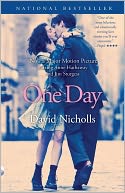 Time has been the main character in many great books and movies, forcing the development of feelings to slow down or speed up. What it brings to a plot is uncertainty: You never know when love will begin or end or under what circumstances. And oh, the questions it raises…
---
WILL TIME HELP OR HURT?
By David Nicholls
It was last summer's blockbuster bestseller and now it's out this week in theaters. Emma (Ann Hathaway) and Dex (Jim Sturgess) go for it on the spot right after college graduation in 1988. They decide to meet every year on the same day, July 15th, and so they do for 20 years.
The one-day-a-year thing is a conceit that's worked before.
Directed by Robert Mulligan
George from New Jersey (Alan Alda) and Doris from Oakland (Ellen Burstyn) meet in 1951 at a Northern California Inn. They are married to other people and have six children between them, but they too have a roll in the hay and decide to meet every year on the same day-for the next 24 years Should they just go ahead and marry each other after all that time? You'll know once you see it (but we won't spoil it for you if you haven't).
PLAY WITH TIME, PLAY WITH FIRE?
By Michelle Alexander
In the film adaptation of this popular volume of dating advice, Kate Hudson and Matthew McConaughey pull enough shenanigans on each other for a lifetime of fights, and their rendition of "You're So Vain" when they discover each other's hidden motives could send anyone flying out the door. It only takes 10 days for them to rock each other's world. But in the rush of things will they blow it?
WHO DO I CHOOSE?
By Nicholas Sparks
James Garner tells an Alzheimer's-stricken Gina Rowland the story of a young woman torn between the man her parents wanted her to marry and the man she really loved. She picked the right one — and she has a flash of memory to prove it.
By Diana Gabaldon
A simple life and quiet husband in post-WWII England, or the passion of a wild Scottish lover and the excitement of Scotland on the brink of war in 1743? Claire enjoyed the best of both worlds, though we're not sure being accused of witchcraft was in her plan.
IS THERE ANYTHING WORSE THAN LONG DISTANCE?
Directed by Alejandro Agresti
He's Keanu Reeves, she's Sandra Bullock. They live in the same lake house, in different years. Thanks to a mystical mailbox, they fall in love via time-traveling letters. But will they be stuck in epistolary purgatory, or finally meet in real life (perhaps on a speeding bus)?
[A book note: Keanu pops into Sandra's life prematurely when he finds her copy of Jane Austen's Persuasion (have you read it?) at a train station. It gets a little dicey when he tries to deliver it to the birthday party her boyfriend throws for her.]
Directed by James Mangold
Two years? Piece of cake. Try a different century. Hugh Jackman may be surprised by Meg Ryan's un-lady-like behavior, but if she returns to 1876 with him she's in for a rude shock as to why women carried parasols back then (the contents of chamber pots were routinely tossed from windows). In love stories, some things never change — but some things thankfully do.
By Audrey Niffenegger
Henry has come unstuck from time and never knows when he'll show up or how long he'll get to spend with the woman he loves, Clare. Is that a love story, or just dating a commitment-phobe? In either case, time messes up everybody's plans.
And then there is the most annoying question forced by time. One you never want to ask:
WHAT IF?
Directed by Peter Chelsom
Sparks fly when John Cusack and Kate Beckinsale try to buy the same pair of gloves. They seem poised to fall in love, but she insists they not exchange names or phone numbers, putting her faith in the crazy idea that they'll meet again by chance if it's meant to be. Did they really need that excuse to make a movie?

Before Sunrise and Before Sunset
Directed by Richard Linklater
Jesse (Ethan Hawke) and Celine (Julie Delpy) meet on a train. He convinces her to spend one day exploring Vienna with him so that later, when she is married and bored, she can think of all the men she had met and wonder if she'd missed her chance at love with him. Ten years later, they meet again, and have 24 hours to find out if they missed their chance. (In 50 years, when they meet again, it'll be called Before the Early Bird Special, and they'll have an hour.)
By Lionel Shriver
Children's book illustrator Irina has a nice life in London with her man, a fellow American who spends his days at a think tank. The inevitable bad boy snooker player shows up and she can't help herself. Author Lionel Shriver sends her off on two different timelines. Two roads diverged — and she took both.
Directed by Peter Howitt
Just to prove there's nothing new under the sun, this movie and book beat The Post-Birthday World to the punch. The whole plot hinges on Paltrow catching or missing a train in the London subway, and catching or missing her boyfriend in bed with another woman. Ouch, either way.
Keep up with BN's Buzz on Facebook or Twitter