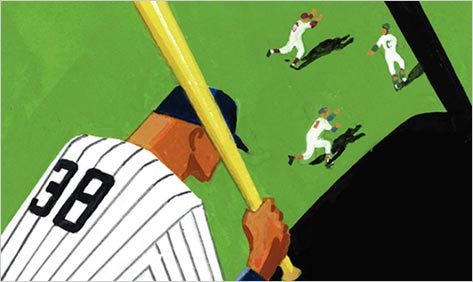 A simple and unsettling calculation reveals to me that this year marks the fortieth anniversary of my coming to New England and setting up shop as a Red Sox fan. How innocent I was in that distant day: how little I understood the faces etched with pain, the haunted eyes, the lips that writhed in uttering "Yankees." It did not take long to become afflicted by the same symptoms and, in my time here, certain Yankee-related events have been so traumatic that they are best designated by numerals alone: 1978 and 2003. The ALCS of 2004 (when the Red Sox came from a 0-3 game deficit to vanquish the evil ones) changed the region's mental landscape — as, of course, did the subsequent World Championship(s). Since then, Yankee hating has become more of a pleasant pastime than a crippling mental and spiritual disorder.

It is in this happier frame of mind that I turn to Damn Yankees: Twenty-Four Major League Writers on the World's Most Loved (and Hated) Team, edited by Rob Fleder. Among the two dozen pieces is the funniest consideration of Yankee hating I have ever read. "Take Me Out to the Oedipal Complex" is illustrator and writer Bruce McCall's confession that, because his father was a Yankee fan, he himself embraced hating the team, leaving little anti-Yankee pamphlets of his own making around the house for his father to stumble upon. It was his own "unique form of patricide" and constituted his identity: "We Yankee-haters, by God, knew who we were. We were losers. We also knew that the devoted Yankee fan, wallowing in his smug prosperity, betrayed a contemptible character flaw. He was not only a front-runner but also a weakling and a sissy and a stranger to the humiliation and failure that toughens the spirit, readying you for more humiliation and failure."

All-out Yankee attacks are actually few in this book, Frank Deford's may be summed up succinctly: Y$a$n$k$e$e$s, and Nathaniel Rich's more forlornly: Mets fan. Charles Pierce, though a Red Sox supporter from birth, writes sympathetically of the proud ethnic divisions in his native Worcester, which — thanks to Joe DiMaggio — put an island of Italian-American Yankee fans in the middle of Massachusetts. Among the other contributors, who range from Jane Leavy to Colum McCann, are Peter Dexter with a mean-spirited, humblebragging consideration of Chuck Knoblauch, and Dick Telander with an appreciative one of Jim Abbott. Economist James Surowiecki provides an excellent assessment of George Steinbrenner's contribution (marketing genius). Derek Jeter has two big fans in Roy Blout Jr. and Tom Verducci, while Bill James asks the question that may — or may not — have given you sleepless nights: "Did you ever find yourself wondering which season was the greatest ever by a Yankee catcher?" I will reveal the season (1950) and the player (Yogi Berra) because that is only the beginning. James, a driven man, pushes on, with amusing commentary, to rank the 100 best seasons for Yankee catchers.

The catcher who appears most often in high places on that list is also the costar of Harvey Araton's Driving Mr Yogi: Yogi Berra, Ron Guidry, and Baseball's Greatest Gift. Guidry, who had played for the Yankees during Berra's time as a coach and last tenure as manager, has, for over a decade, picked up the ancient backstop every spring at the Tampa airport to drive him to the Yankee training camp. Around that annual journey are spun a number of tales including the story of Berra's mighty fourteen-year umbrage at a highhanded George Steinbrenner, which was finally resolved in a July 1999 celebration of Berra's return to Yankee Stadium. The event was elevated by the perfect game pitched that afternoon by David Cone — triumphantly bringing back the memory of Berra's own role in Don Larsen's perfect game in the 1956 World Series. We find here too the introduction of frogs' legs by the Louisianan Guidry into Berra's diet and a sense of the deep friendship between two great baseball men.

The title of Tim Wendell's Summer of '68: the Season That Changed Baseball, and America, Forever is one that could be used, mutatis mutandis, as we say around the farm, for any number of seasons. Nonetheless, outside the park, 1968 was a doozy, marked by assassinations, riots, an increasingly unpopular war, and a violent Democratic Convention in Chicago. The effects of this were felt inside the park as racial tensions increased and a number of players had to interrupt their time on the field for military training. As for the game itself: it was a season of phenomenal pitching, with the magnificently fearsome Bob Gibson emerging with a preternatural 1.12 ERA (and 1.67 in the World Series). Alas, the season's hurling greatness changed the game forever: the next year saw the mound lowered by six inches and the designated hitter appear in the American League. The book includes excellent photographs and is strongest when it concentrates on baseball.

The "gentlemen's agreement" that banned black players from organized profession baseball was struck behind closed doors toward the end of the nineteenth century. In Conspiracy of Silence: Sportswriters and the Long Campaign to Desegregate Baseball, Chris Lamb shows that the ban was maintained in great part by its existence never being acknowledged. The book is a chronicle of bad faith, on the part of owners and organizational big bugs, and of a press that remained generally silent on the subject. It is also an absorbing account of how that silence was finally broken. Key to this were a few white sports reporters, a few black ones from the black press, and the (Communist) Daily Worker, a paper that, until the Nazi-Soviet Pact of 1939 was far more influential than most of us can quite take in today. The entrance of the United States into the war against a racist regime made baseball's own racial hypocrisy increasingly untenable, which fact was increasingly reflected in the formerly circumspect mainstream press. In the largest sense, Lamb shows how pivotal the desegregation of baseball was to that of the nation as a whole.

Mitchell Nathanson claims that A People's History of Baseball "is baseball history from an alternative point of view," and to that end it visits some of organized professional baseball's most notorious institutions and episodes, among them segregation; the Reserve Clause; the banning of players from the game without due process; the blind eye turned by club owners to "performance-enhancement drugs" and subsequent scapegoating of a few players; and the battle over who owns baseball statistics. Nathanson's goal is to reclaim baseball and its story from those who have spun a falsely uplifting version, first among the guilty being Henry Chadwick (a.k.a. the Father of Baseball), who promoted ideologically skewed statistics (in Nathanson's opinion) and offered baseball as an edifying example of individual sacrifice and teamwork (bad). To offer Chadwick as villain is a real stunner to my way of thinking, but in this case even more so as his success in making statistics integral to baseball made possible what Nathanson considers — most eccentrically — to be the means of restoring the game to both players and fans. That is fantasy baseball: the game that takes the actual game out of baseball.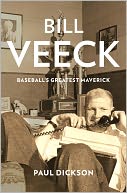 One of the season's very best books won't be published for another couple of weeks, but I will mention it anyway, Bill Veeck: Baseball's Greatest Maverick by Paul Dickson, a great baseball writer who now gives us an effortlessly informative, anecdote-rich account of the last of baseball's big showmen, a man who was also an enormously influential force in the game. Over the years Veeck owned three major-league teams: the St Louis Browns, the Cleveland Indians, and the Chicago White Sox (twice). He is best (or worst) remembered for bringing in a midget to pinch-hit in 1952, and later for such novelties as installing an exploding scoreboard and putting his players in bermuda shorts. Still, he was the first American League owner to integrate a team and also condemned the Reserve Clause. He "read a book a day and drank a beer a minute and…could talk on any subject from Aquinas to Steinbeck." One of the greatest disappointments in his life was failing to make it onto Richard Nixon's enemies list.