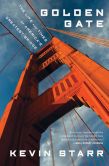 The Golden Gate Bridge opened on this day in 1937. If the 4,200-foot span across San Francisco Bay is indeed "the most photographed bridge in the world" (Frommer's travel guide), perhaps its allure can be explained by the following passage from Kevin Starr's recent Golden Gate: The Life and Times of America's Greatest Bridge:
Triumphantly, the Golden Gate Bridge linked the urbanism of San Francisco with the unspoiled headlands of Marin as if to suggest the paradox of California/America itself: a gift of nature, a continent that F. Scott Fitzgerald described as the last place commensurate with the human capacity for wonder, a sacred text, a revelation of the Divine Mind, as far as the Anglo-American Protestant imagination was concerned — yet a place as well to be reshaped into cities, with canals, roadways, railways, highways, aqueducts, bridges, and all those other entities required by urban civilization. Yet the Bridge did not destroy its site; rather, it enhanced it, as the Parthenon enhances the hill upon which it stands. The Golden Gate Bridge announced to the world something important about the American imagination and the American stewardship of the continent, taken at its best.
John Bateson's The Final Leap explores the dark side of the bridge's history, its reputation as the top suicide spot on earth. Bateson puts a human face on many of the 1,500 suicides, beginning with Harold Wobber, a WWI veteran who was the first to jump, three months after the bridge opened. Bateson notes that Wobber fit the profile for the majority of those who would later take their lives (and the very few who would survive the jump): he was white (80%), male (74%), in his forties (average age forty-one), and single (56%).

Wobber's death began the still-continuing debate over how to add some sort of suicide barrier to the bridge. A former director of a suicide prevention center in the Bay area, Bateson has little tolerance for those who so prize the Golden Gate's original design that they are unwilling to address its fatal flaw:
Some researchers believe that suicidal behavior is linked to physiological or genetic factors, but so far this has not been proven conclusively. What has been proven is that most people fixate on one means of death. Eliminate access to that means — whether it's a safety lock on firearms, a blister tab on medications, or a barrier on a bridge — and suicides are reduced.
---
Daybook is contributed by Steve King, who teaches in the English Department of Memorial University in St. John's, Newfoundland. His literary daybook began as a radio series syndicated nationally in Canada. He can be found online at todayinliterature.com.