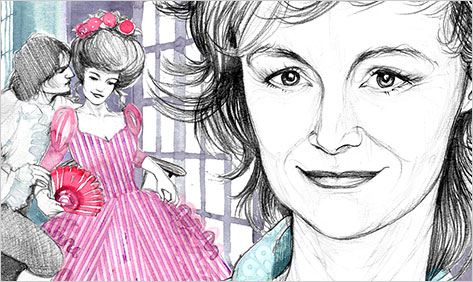 I write about dukes. If one of my heroes was around today, he'd be wearing a Rolex, using imported dental floss, and instructing his driver to drop by Tiffany's. In short, I'm a hopeless snob, at least when it comes to fantasy. According to recent news stories, I'm not alone; apparently American girls are stalking British bars hoping to snag Prince Harry. It could be said that as a country, we have a fascination with the wealthy titled class. However, four terrific romances just convinced me that every author doesn't think a coronet is the equivalent of a halo. In these novels, characters do not draw their appeal from their other-worldliness, their dissimilarity from you and me, but from their down-to-earth normality.
Eileen Dreyer's Never a Gentleman looks squarely at the problem I lay out above. If we Americans think that high birth is sexy, what do we think of the middle class? Are regular people sexy? What if—as in the premise of Dreyer's book—a gentleman is forced to marry a plain soldier's daughter with callused hands and no knowledge of the ton? And what if his physical beauty matches his birth and wealth? Diccan Hilliard is appalled when he ends up married to an awkward, aging virgin. But Grace Fairchild is an utterly fascinating heroine: honest, strong, forthright, and deeply loving. Even when Diccan breaks her heart (in one of the most wrenching scenes of betrayal I've ever read), she doesn't run away. Grace astonished me, and she constantly did the same for Diccan. You'll find yourself rooting for Diccan to escape his "prison of perfection," as he labels it, and become Grace's lover, rather than just her husband.
Jodi Thomas's Texas Blue is also a historical, set in 1875, but being a western, it has no truck with titles. Even so, the novel circles around notions of class and hierarchy. Lewton Paterson is a gambling man whose lifelong dream is to marry "up," which in this case means finding his way into middle-class respectability. So he scrams a ride to Texas, and sets out to seduce his way into the McMurray ranching family. Lewton is the ultimate anti-hero: "in twenty-eight years he'd seen nothing worth risking his life for, nothing he loved worth dying to protect…life was a game and the man leaving the table with the most chips won." As it turns out, his targeted bride, Emily McMurray, is determined never to marry, so when Lewton arrives on his courting mission, he actually meets her friend Tamela disguised as Emily. Lewton hires the real Emily (for $5/hour) to teach him about ranching, and finds himself falling for a girl who cannot give him the respectable life he wants so badly—or so he thinks. Texas Blue is a story of a very dear, big-hearted if bumbling, gambler and an exasperated woman who reluctantly teaches him all about ranching and falls in love at the same time. You'll finish this book with a big sigh. Lewton is brave, handsome, hairy (to Emily's mind)—anything but a gentleman, but as he says in the end, he's also the "luckiest man alive."
As a romance writer, it's a bit hard to write about Nora Roberts. How can someone as prolific as Nora (as with royalty, a single name suffices) write one of the best novels I read all month? It doesn't seem fair! Chasing Fire is a terrific romance, one of her very best, in my opinion. Nora's heroine, Rowan Tripp, is the kind of firefighter who leaps out of a plane to put out forest wildfires. When she's not chasing fires, she trains the rookies—one of whom is Gulliver Curry. This novel takes the question of class and compounds it: Rowan is, practically speaking, Gulliver's boss. And as she tells him, she doesn't hook up with "rookies, snookies or other smoke jumpers." Nora doesn't always choose to write heart-pounding books about gritty, brave characters (her bridal books feature charming, rich characters). But there is no one who does rough-and-tumble suspense better than she does. Rowan is the kind of woman who can hold her own with high-testosterone firefighters: she can knock a man on his ass, knock back six shots of tequila, and turn down the sexiest man on the team because, as she says, "once you mix sex into it, even smart people can get stupid." Gull is a match for her, though: persistent, charming, and downright heroic once it becomes clear that a murderer lurks in the ranks of the smoke jumpers. I challenge you not to stay up late reading Chasing Fire: it kept me turning pages until 3 AM.
Jill Sorenson's The Edge of Night takes class and compounds it with race. April Ortiz is a Hispanic single mom who works at a strip joint and lives in Chula Vista, a city near San Diego that is exploding with heat and poverty. Noah Young is a white officer assigned to a patrol car in Chula Vista. He's not an undercover FBI agent, demon hunter or werewolf; she isn't an heiress in disguise. They are exactly what they appear to be: hard-working, struggling, regular people. The Edge of Night is an absolutely riveting depiction of life in Chula Vista. I loved this novel—the heat of the city, the pure decency of Noah and April, the slow way they came together and fell in love in the face of their differences. There is nothing ducal about Noah. But Sorenson taught me to love a man who mutters "screw it," and then gets up his courage to fall on his knees and pull a black velvet box from his pocket. There aren't any Rolexes or limousines in this novel—unless they belong to drug dealers—but there's a flash-fire kind of love and passion that is pure romance.
Of course, there's a place for fantasy in the romance genre—whether the fantastic element involves vampire teeth or a gilded carriage. But we should always keep a corner of our bookcase for novels like these: ones that reaffirm that romance isn't confined to the landed gentry, and that money doesn't make people happy—love does. When Rowan and Gull are running through a fire and she thinks about his eyes—"Eyes that didn't lie…Eyes she could trust"—it strips glittering decoration from the genre and speaks to its heart. In the end, we all want someone to love, someone to trust. These novels speak to the joy of finding it, no matter what your race, gender, or class may be.
---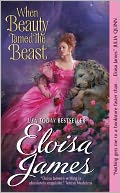 Eloisa James's latest romance is When Beauty Tamed the Beast.
Please do check out Eloisa's past columns in the Archives, and if you'd like to get her reaction to romances as she reads them, follow her on Facebook or Twitter. B&N offers lots of places for you to share your reactions to your favorite books. There's the Romantic Reads Book Club, not to mention our daily romance blog, Heart to Heart, where readers chat about the hottest news in the world of romance, from favorite authors to scorching love scenes.
For sneak peeks at all Eloisa's romances, please visit her web site at www.eloisajames.com.