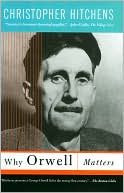 January 21: On this day in 1950 George Orwell died, aged forty-six. The achievement of Orwell's last years seems overbalanced by a withering series of personal challenges. In 1945, a little more than a year after the adoption of a one-month-old boy (their only child), Orwell's wife died on the operating table. As the severity of his tuberculosis became clear, Orwell searched desperately for a wife who might accept the certain roles of nurse and mother, and the likely role of widow. Forced to spend most of his last two years in hospital, he had to revise his hopes ever-downward, from thinking he might live until his son was thirteen to joking that the upcoming newspaper profile of the famous author of 1984, just published, would have to be rewritten as an obituary. After one of his final visits to see his friend, Malcolm Muggeridge noted in his journal that despite the Christmas decorations which hung over Orwell's head, and though he continued to wear the purple smoking jacket donned for his bedside remarriage, "the stench of death was in the air."
Orwell's biggest blow near the end may have come with his realization that, in accepting the doctors' orders of complete rest, he must surrender even his typewriter. Aware that some found his writing over-earnest — "He could not blow his nose without moralizing on the state of the handkerchief industry," Cyril Connolly famously quipped — Orwell would try to explain how he felt forced by the times into "becoming a sort of pamphleteer." In "Why I Write" (1947), he says that he once aspired to "enormous naturalistic novels with unhappy endings, full of detailed descriptions and arresting similes," but that it didn't seem right for him or for "tumultuous, revolutionary ages like our own." In "A Little Poem" he jokingly offers a vision of an alternate life:
A happy vicar I might have been

Two hundred years ago

To preach upon eternal doom

And watch my walnuts grow….
Visitors to Orwell's hospital room in his last days noted sadly that his fishing poles stood in the corner, ready to go. The last lines of the poem suggest that, but for world wars, class-system poverty, totalitarianism, and tuberculosis, he might have used them more: "I wasn't born for an age like this; / Was Smith? Was Jones? Were you?"
---
Daybook is contributed by Steve King, who teaches in the English Department of Memorial University in St. John's, Newfoundland. His literary daybook began as a radio series syndicated nationally in Canada. He can be found online at todayinliterature.com.