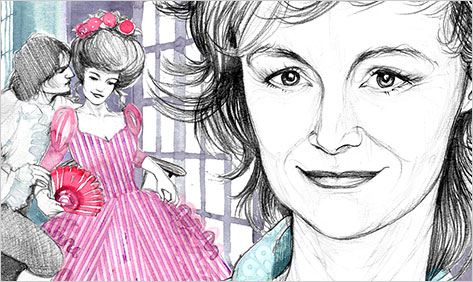 Half the pleasure of Agatha Christie's Miss Marple stories stems from her depiction of the English village of St. Mary Mead, just as the drama of To Kill a Mockingbird grows from its setting in Maycomb, Alabama (and the ensuing fact that Scout is related by blood or marriage to every family in town). In small towns, reputation is as important a currency as dollars — and at the same time, faults are stripped bare in a way that has important ramifications for love and romance.
It can be harder to think of setting as intrinsic to romances, due to our persistent habit of reducing these novels to the plot, as if love stories existed in a vacuum. But the fun of Lori Wilde's The Sweethearts' Knitting Club, for example, is deeply tied to its setting in Twilight, Texas. Flynn MacGregor is a waitress in her father's diner, Froggy's ("straight-to-the-arteries comfort food"); she just got engaged to the sheriff — and her first love just got out of jail. It's the kind of novel in which the rhythms and language of a small Texas town are as intoxicating as the love story. One thing we know after reading Harper Lee is that emotions run hotter in small towns than they do in big cities, and the story of how Jess Calloway got out of prison and came back home to Twilight, determined to find Flynn MacGregory — well, it's one of the sexiest and flat-out most romantic novels I've read in forever.
Texas offers particularly good small town settings; I'd love to visit Mooney, the home of Marsha Moyer's Return of the Stardust Cowgirl. Lucy Hatch is a frank and funny heroine, whose husband Ash is in a mid-life crisis due to his flailing music career, though, on the plus side, he is finally sober. Meanwhile her stepdaughter has left Nashville and success as a singer, fleeing back to Texas with a secret — and two or three men in love with her. The novel winds around these two heroines, with full awareness that love isn't always perfect. As Lucy has it, in her experience a person never knows whether the man who shares your bed and your icebox will star as the love of your life or as a face last seen on the post office wall, wanted for crimes in half a dozen states. Ash, like Jess Calloway, is a man with a past, a man whom Lucy needs to love with open eyes. In a small town like Moody, there's no hiding from the community — and that makes a romance in which the heroine can't fool herself, either.
The setting of Susan Mallery's Hot on Her Heels is mostly Dallas, Texas, but the symbolic heart of the novel is Titanville, a town shaped by Jed Titan into a village with stores like the "Titanville Pet Palace." His illegitimate son Garth Duncan has sworn to bring down the Titan empire, no matter what it takes. Garth doesn't care how he stretches the law to bring down Jed, but Dana Birch, a fierce deputy, stands between him and success. In his pursuit of vengeance, Garth is endangering Dana's friends, and she is determined to stop him. Titanville is Jed's reputation, poured into concrete — and this novel resonates with the sense that honor, what people think of you, is as important as love. Dana's faith in Garth turns him from a man who blinded by a desire for vengeance to one who manages to take down his father's reputation and repair his own at the same time. Like Jess and Ash, Dana doesn't fool herself about Garth. He's no knight in shining armor and the whole community knows it.
Jennifer Crusie's Welcome to Temptation takes place in Temptation, Ohio, another fishbowl in which secrets regularly turn belly-up, exposing themselves to the air. Wedding video-maker Sophie Dempsey finds herself in Temptation when her sister Amy talks her into helping an aging porn star, Clea Whipple, make a movie. It's not a wedding movie, and Sophie and Amy quickly come to the attention of Phineas Tucker, Temptation's mayor, especially once the town council passes an anti-porn ordinance. A prudish small town and a soft-porn film are a combustible mix, but the real combustion is between Sophie and Phin after the closeknit weave of small town life pushes them to a raw level of honesty that drives the romance. From the moment Phin holds out his hand to Sophie and says, "Hello, Sophie Dempsey…Welcome to Temptation," you know that Crusie is making the town a potent character. Temptation is graced with a fleshy pink water tower with a resemblance to human anatomy; like Titanville, Temptation stands for more than itself. The town is a metaphor for the life that Sophie thinks she doesn't want — and finds that she loves.
The heroine of Lisa Dale's It Happened One Night has been dreaming for years of fleeing her small town on the outskirts of Burlington and heading for somewhere exotic, preferably Costa Rica. Lana is stuck — in her own mind and those of people around her — as the airy, hippie sister to Karin, her co-owner in their business, Wildflower Barn, who is the maternal, married, and responsible one. Lana never thinks seriously about her childhood friend, Eli, since he's boring and she's flirty; she sleeps with surfer dudes, and he sleeps alone. But when Lana is suddenly forced to grow up, she learns that she doesn't have to be an airhead, and Eli no longer seems to be only an old friend. Her longing to leave the place where everyone knows her and her business turns into the hard-won knowledge that sometimes home is the best place to fall in love.
There's nothing worse than a romance in which the hero and heroine appear to be living in a bubble, with no friends, no family, and an empty address book. These novels are the reverse. Setting is feverishly present, and the books woo the reader into falling in love with a small town right along with the hero and heroine. Just as Atticus Finch would be diminished, if not silenced, had he lived in New York City rather than Maycomb, the characters in these novels thrive and fall in love because of — not despite — the towns in which they live.
If you'd like to discuss the way in which a small town shaped a favorite romance (or your life, for that matter), please stop in to chat with Eloisa James in the Romantic Reads Book Club, where she'll be joined by Lori Wilde from December 7 to 13. Please do check out Eloisa's past columns in the Archives and if you'd like to get her reaction to romances as she reads them, follow her on Facebook or Twitter. If you'd like a peek at Eloisa's own romances, please visit her web site at www.eloisajames.com. And don't forget the Barnes & Noble daily romance blog, Heart to Heart, where the fabulous Michelle Buonfiglio chats about the hottest news in the world of romance, from favorite authors to scorching love scenes.