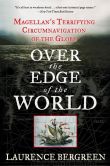 Try to picture how they set forth, on ships little larger than fishing smacks, to explore the unknown, to sail they knew not wither, lost in the infinite, ceaselessly in peril, exposed to all the vicissitudes of storm, to every kind of privation.… For months, for years, no one at home knew what had become of them, any more than they themselves knew where they were going. Want was their fellow passenger; death in myriad form environed them by sea or on land….
Ferdinand Magellan set sail from southern Spain on this day in 1519 for the voyage that would become the first circumnavigation of the world. The description above, excerpted from Stefan Zweig's Magellan, proved to be no exaggeration: three years later, only eighteen of the 270-man crew made it home, aboard one of the five ships which set out. The following description of that ship's return to port is from Laurence Bergreen's Over the Edge of the World: Magellan's Terrifying Circumnavigation of the Globe:
As the ship came closer, those who gathered onshore noticed that her tattered sails flailed in the breeze, her rigging had rotted away, the sun had bleached her colors, and storms had gouged her sides. A small pilot boat was dispatched to lead the strange ship over the reefs to the harbor. Those aboard the pilot boat found themselves looking into the face of every sailor's nightmare. The vessel they were guiding into the harbor was manned by a skeleton crew of just eighteen sailors and three captives, all of them severely malnourished. Most lacked the strength to walk or even to speak. Their tongues were swollen and their bodies were covered with painful boils….
---
Daybook is contributed by Steve King, who teaches in the English Department of Memorial University in St. John's, Newfoundland. His literary daybook began as a radio series syndicated nationally in Canada. He can be found online at todayinliterature.com.