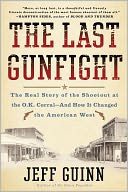 The legendary shootout at the OK Corral occurred 130 years ago today in Tombstone, Arizona, the Earp brothers and Doc Holliday killing or running off the Clanton-McLaury gang in a thirty-second blaze of gunfire. Months of trials and vendetta killings followed, and the gunfight was soon iconic, a frame for most portraits of the Wild West. But not so fast, pardner:
What has come to be called "The Gunfight at the O.K. Corral" became a pivotal moment in American annals because misunderstandings, exaggerations, and outright lies about it provided impetus for future generations to form a skewed, one-dimensional view of frontier history. …The real story of Tombstone, and of the American West, is far more complex than a cartoonish confrontation of good guys and bad guys.
The above quotation is from the prologue to Jeff Guinn's The Last Gunfight: The Real Story of the Shootout at the OK Corral — and How It Changed the American West (2011). Guinn's book repositions the gunfight by first repositioning Tombstone some distance from the frontier town archetype:
By design as much as by accident, Tombstone was a cultural contradiction, one where the usual mining camp demimonde delights of fixed card games, brothels, and cheap rotgut coexisted amicably with swank hotels and restaurants, world-class stage entertainment, and pricey blended whiskies of the sort sipped in the finest East Coast metropolitan watering holes. Civic leaders were about to debate the advisability of installing sewer lines, and telephones linked the major mines and the busy Mining Exchange Building, as well as a few of Tombstone's glitziest hotels. The town was an addictive hybrid of elegance and decadence, a place soon to be described in one prominent travel magazine as "a spasm of modernism." Tombstone deserved the description. In many ways the town was the logical culmination of what, in just over a century, the American West had come to represent: Limitless opportunities for any man to achieve any ambition, no matter how lofty or unlikely. On this chilly morning [of the gunfight], there was no other place like Tombstone in all of Arizona Territory, or in much of America.
---
Daybook is contributed by Steve King, who teaches in the English Department of Memorial University in St. John's, Newfoundland. His literary daybook began as a radio series syndicated nationally in Canada. He can be found online at todayinliterature.com.