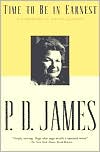 August 3: P. D. James turns ninety today. Although almost a half-century and some twenty whodunits long, James's career did not get going until she was forty-two. Her "fragment of autobiography," Time to Be in Earnest (1999), takes its title from Samuel Johnson's line that "At seventy-seven it is time to be in earnest," but her first book had a similar inspiration, minus the joke. James says that she always thought that she would write, and write crime novels, but when her husband returned from WWII with mental problems she was forced to make the family's living. The work, the family, the night classes and the institutionalized husband didn't leave much time for childhood dreams, but James "finally realized that there would never be a convenient time to write my first book." Planned out on commuter trains, Cover Her Face (1962) was reviewed as "the kind of novel which suggests that the author is planning a lengthy career in the business"—a career, it was noted, which Inspector Adam Dalgliesh (named after James's high school English teacher) would surely share.
James published her most recent Dalgliesh novel in 2008, and the obligatory interview question is whether there will be another. Here is her most recent answer, given just two weeks ago to the Daily Telegraph:
I'm not sure yet. Life has been so busy I have only done 10,000 words in six months. I don't want the standard to drop and I don't want a reviewer to be saying: "It's a remarkable book, for a 91 year-old." And I don't want them to say: "It's not vintage PD James." If I'm not doing it as well as I have done it in the past, then there is no point in my doing it at all.
It seems almost as obligatory for James's interviewers to make reference to her conservative views. There are certainly many passages in James's autobiography which lament the slow death of Old England—the BBC is now but a dumbed-down shadow; the Anglican Church is in peril; the House of Lords (in which Baroness James now sits) should not be dismantled by the progressive politicians; the between-wars generation read more, respected more, showed more "fortitude and self-control," and "I am not sorry that I was at school at a time when the word 'kid' was reserved for the young of goats."
---
Daybook is contributed by Steve King, who teaches in the English Department of Memorial University in St. John's, Newfoundland. His literary daybook began as a radio series syndicated nationally in Canada. He can be found online at todayinliterature.com.