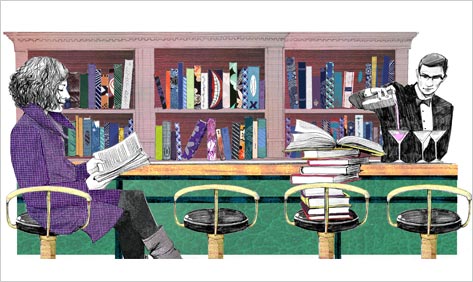 "[T]he September issue [of Bird Talk magazine] is the last that will appear in print, leaving disappointed subscribers with BirdChannel.com, the magazine's related site, as the only way to read the publication's information on all types of birds…. What has riled up Bird Talk subscribers even more is that the magazine's publisher plans to send them copies of Dog Fancy in its place." — The New York Times
Dear Subscriber,
First, I want to thank you sincerely for your loyalty, whether you are in your first year of subscription to PANDA MANIA magazine or your second. Without subscribers like you — owners and/or admirers of the noble, solitary, black-and-white giant panda — Endangered Publications would have neither the means nor a reason to publish PANDA MANIA!
Unfortunately, due to a precipitous decline in subscriptions, which weren't that great to begin with, Endangered Publications can no longer afford to publish PANDA MANIA, although we will maintain PandaMania.panda for the foreseeable future (certainly for the next four months, until our registration of the domain name expires). As publisher of PANDA MANIA, I share your disappointment, but please know that the decision to end the print magazine's run was not one we reached lightly. To the contrary, the decision was made after days of deliberation, and only because the number of subscribers fell below the number of pandas.
Because your pre‐paid subscription entitles you to six more issues of PANDA MANIA, I want to offer you one of the following as a replacement:
Six (6) issues of SHRUB MONTHLY. SHRUB MONTHLY provides regular reports on the distribution of panda-favored shrubs 2‐8 meters in height among the four established structural forms (closed‐scrub, open‐scrub, tall shrubland, and tall open shrubland) as well as longstanding popular columns "Humor in Juniper", "Lavender is the Best Medicine", and "Chamaebatiaria Comedy". Plus frequent sweepstakes opportunities.
Six (6) issues of PANDA MANIA's rival publication, PANDA PREDATOR. The focus of PANDA PREDATOR cycles monthly through leopards, jackals, and the yellow‐throated marten, each a natural enemy of the noble, solitary, black‐and‐white giant panda. As someone with a demonstrated interest in pandas, you might enjoy such features as "Where Leopards Slaughter the Most Pandas — a Global Look", "Why Jackals Play With Pandas Before Eating Them", and "Yellow‐Throated Martens: Adorable Panda Cub Killers".
Three (3) issues of PANDOWDY MANIA, a journal dedicated to the deep-dish apple dessert with the rich crust. Each issue is a double issue, and all recipes are peer-reviewed. Yum!
One (1) item from the editorial offices of PANDA MANIA (up to $36 market value). As of this writing, available items include ink cartridges for an Okidata printer (model unknown); numerous three-ring binders (black and white only, of course!); unopened 10-packs of 3.5-inch floppy diskettes; and pretzel rods.
If none of the above is satisfactory, I suppose you can just get the unused portion of your subscription payment back (less a check-processing fee or electronic funds transfer convenience charge).
Please let us know which option you choose at your earliest convenience, so that your enjoyment of Endangered Publications products or office supplies will be uninterrupted.
Yours Truly,
Bob Tillman
Publisher, PANDA MANIA
Matthew David Brozik does his part to aid panda conservation by eating only one each year. Read more at imdb.name, where you can email him your favorite panda recipes.