Love Rocks is a biweekly look at new self-published romance titles from the community of writers at Rock*ItReads.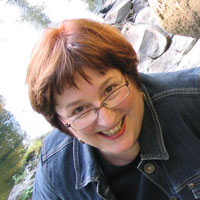 I buy a lot of indie books. I mean, a lot. If you were to examine my reader, you'd probably find a 75/25 mix of indie-to-trad books. Part of that ratio is my desire to support fellow indie authors. Part of it is the very attractive indie pricing. And of course, part of it is the thrill of finding new and compelling voices. While it's true that I don't finish every indie book I start due to quality issues, I do so love the quest!
For my first Love Rocks column, I'm going to profile a pair of authors whose work I know well. They are hybrid authors, having a foot in both traditional and indie publishing worlds, but their indie work truly deserves more attention.
Lina Gardiner approaches everything she does with a determination to make it the best it can be, whether that be one of her fondant-topped, artistically decorated cakes, a painting, or a novel. In the latter case, her dedication to excellence has paid off. Lina is an award-winning novelist. The first book in her Jess Vandemire Vampire Hunter series, Grave Illusions, netted her both a PRISM and a Daphne du Maurier award. Her other small press books (urban fantasies and even a paranormal spy novel ) have been critically well received.
But today I want to tell you about her first self-published novel. A departure from the UF/paranormal mode, What She Doesn't Know is a romantic suspense/adventure. Set largely on a fictitious island in the cold, foggy Bay of Fundy, it's deliciously atmospheric.
Log line: Everyone wants secrets she either doesn't know or can't remember, and they're willing to kill for them.
The book is tightly plotted, filled with dangerous thugs, family secrets, hidden treasure, a secret society, and of course, a lovely romance. The foggy, isolated, frigid Bay of Fundy setting is a perfect backdrop for this tale. In fact, here's a sample of that atmosphere:
The image of Raven's broken body lying at the bottom of one of the many dangerous cliffs on the island spurred Sloan forward. If she'd been smart enough to leap out of the window and climb down that oak tree, surely she wouldn't wander off a cliff in the fog. But fog this thick could trick the mind, and she didn't know the island.

"Raven!" Cold, damp whorls of mist danced around him. Water droplets clung to his skin and made him shiver. Even wearing a sweatshirt over his T-shirt and jeans didn't help, he was still cold. With that flimsy outfit she had on she must be nearly hypothermic about now.

Worse, everything was slippery in this kind of weather. Beach stones in particular. She could easily fall and crack her head.

When she appeared out of the mist, her skin looked almost blue.
Gardiner says this is the first of a continuing series which she loosely calls the Protectorate Series, and I am looking forward to the next instalment.
To learn more about Lina Gardiner, check out her website.
The next author I want to tell you about is Kate Kelly. Most of Kate's catalogue is self-published, but she also writes for Harlequin Superromance (A Deliberate Father).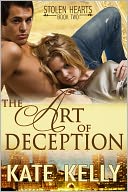 Kate's self-published titles include Shattered, a western-set romantic suspense stand-alone, and her wonderful Stolen Hearts romantic suspense series that revolves around the art world (Sleight of Hand, Art of Deception, and the novella prequel Out of Control).
Kate is a Romance Writers of America Golden Heart® finalist as well as a Daphne du Maurier award winner. Her strength as a writer, whether she's writing a Superromance or a romantic suspense — or heck, probably a grocery list! — is her attention to the words themselves, their rhythm and arrangement. While she understands story, character development and the conventions of her genre as well as any writer, it's her unique turn of phrase that really elevates her stories for me. I guess you'd call it voice. Here's a sample, from Art of Deception:
This man, he's not… Her breathless thoughts stumbled as he ran the pad of his thumb over her bottom lip. A warning signal blipped at the back of her mind, but the heat from his body as he moved closer drowned it out. She couldn't pull her gaze away from his as he lowered his head. Just before he touched his mouth to hers, she caught a faint shift in his expression.

The complacent rat! She jerked her head back and ducked under his arm, her body vibrating with outrage. Did he really think she'd fall into his arms because he smiled at her? Okay, she took a deep breath, she'd come close, but all that meant was she had to be on her guard.

No kidding.

"Don't ever try that again."

Now what was he up to? He still smiled as he turned to face her, not the same seductive curving of his lips, but a grin, open and honest. If she could use a word like honest to describe him.

"It was worth a try."

A lock of black hair fell over his forehead, and his eyes flashed with inner amusement. She automatically reached for her camera. He looked like the devil's own son; like he knew what it was to walk on the dark side and loved every minute of it.

Sparkling blue eyes fringed with thick, black lashes accented high cheekbones and hollow cheeks. The fullness of his bottom lip hinted at passion and robbed his strong, rigid jaw of some of its obstinacy. He was a disturbingly masculine man. The kind of man she kept her distance from.

She dropped her hands down to her side and inched back another step as excitement streaked through her. Oh no. She was a big girl. Old enough to know not to mess with men like Chance.
(To read more about Kate Kelly, visit her website.)
I hope you'll try an indie book today, whether it's one you've read about in this column or one of your own choosing. There's gold out there. There really is!
To sign in and make a comment, click on the Sign In or Register link in the upper right-hand corner of the page, then come back to this page to leave a comment below.
---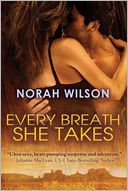 Norah is a three-time finalist in the Romance Writers of America's Golden Heart® contest and in 2003 won the Dorchester Publishing's New Voice in Romance. She writes romantic suspense and paranormal romance.