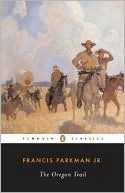 The American historian Francis Parkman was born on this day in 1823. Parkman's The Oregon Trail and his monumental seven-volume France and England in North America greatly shaped the popular view of North American history into the twentieth century. His biases and his romantic tone are now usually debunked, though his writing is still often praised as literature—"among the most brilliant achievements of the writing of history as an art," said Edmund Wilson.

The literary style of The Oregon Trail is perhaps partly explained by Parkman's decision to take Shakespeare's plays and Byron's poetry on his trip west. Quotations from these and other classics introduce each chapter, and illustrations by N. C. Wyeth and Frederick Remington add to the romantic allure. But the book has eyewitness impact—"true, wild-game flavor," said Herman Melville in his contemporary review. One section of The Oregon Trail is "wild game" in a literal way, Parkman becoming "drunk with the chase" of the buffalo:
From the river bank on the right, away over the swelling prairie on the left, and in front as far as we could see, extended one vast host of buffalo.… We entered it, still restraining our excited horses. Every instant the tumult was thickening. The buffalo, pressing together in large bodies, crowded away from us on every hand. In front and on either side we could see dark columns and masses, half hidden by clouds of dust, rushing along in terror and confusion, and hear the tramp and clattering of ten thousand hooves. That countless multitude of powerful brutes, ignorant of their own strength, were flying in panic from the approach of two feeble horsemen…
After shooting a few and dodging the charges of other exhausted and enraged animals, Parkman runs out of wadding for his gun. But Yankee ingenuity prevails:
At length, bethinking me of the fringes at the seams of my buckskin pantaloons, I jerked off a few of them, and reloading my gun, forced them down the barrel to keep the bullet in its place; then approaching, I shot the wounded buffalo through the heart. Sinking to her knees, she rolled over lifeless on the prairie. To my astonishment, I found that instead of a fat cow I had been slaughtering a stout yearling bull. No longer wondering at the fierceness he had shown, I opened his throat and cutting out his tongue, tied it at the back of my saddle…. We encamped close to the river. The night was dark, and as we lay down we could hear mingled with the howling of wolves the hoarse bellowing of the buffalo, like the ocean beating upon a distant coast.
---
Daybook is contributed by Steve King, who teaches in the English Department of Memorial University in St. John's, Newfoundland. His literary daybook began as a radio series syndicated nationally in Canada. He can be found online at todayinliterature.com.