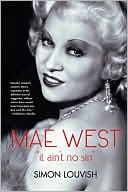 April 19:Mae West went to jail on this day in 1927 for Sex, the play which she wrote and produced,and which provided her with her first starring role on Broadway, as aprostitute named Margy LaMont. Advertised as "More laughs, thrills andaction than a flappers' gin party," Sexhad been a popular draw. Many patrons were attracted by the notices praisingWest as "the Babe Ruth of the stage 'prosties.'" Some reviews slammedthe play's indecencies, or slammed West's prostitute-heroine for herunconvincing reformation, but this did little to stop the crowds. Pressuredinto action, and perhaps provoked by West's cheek in calling her theater groupthe Morals Production Company, the police closed the play down. Unrepentant,West was sent to the Women's Workhouse, sighing "I expect it will be themaking of me" as she went. But she seems to have been a model prisoner: herten-day sentence was reduced to eight for good behavior, and she donated the $1,000she got for a magazine article about the experience to the Workhouse libraryfund.
West liked to make it seemas if her plays were written effortlessly or improvised in rehearsal, but recentbiographer Simon Louvish (Mae West: ItAin't No Sin, 2007) says that she was a much more serious writer than shelet on. Sex is certainly more thanquips and titillations; this is West's prostitute confronting a woman from theright side of the tracks, hoping "to dig under the veneer of your supposedrespectability":
MARGY: …You've got thekind of stuff in you that makes women of my type. If our positions werechanged—you in my place, and I in yours—I'd be willing to bet that I'd make abetter wife and mother than you are. Yeah, and I'll bet without this beautifulhome, without money, and without any restrictions, you'd be worse than I haveever been.

CLARA: No, no—

MARGY: Yes you would. You'ddo it and like it.

CLARA: For God's sake stopit, I can't endure any more—

MARGY: Now you're down offyour pedestal. You're down where you can see—it's just a matter ofcircumstances. The only difference between us is that you could afford to giveit away.
---
Daybook is contributed by Steve King, who teaches in the English Department of Memorial University in St. John's, Newfoundland. His literary daybook began as a radio series syndicated nationally in Canada. He can be found online at todayinliterature.com.