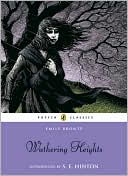 July 30: On this day in 1818 Emily Brontë was born in Thornton, Yorkshire, the fifth of six children. When she was two years old, Emily's father became curate in nearby Haworth; when she was three, her mother died; and three years after that, her two oldest sisters died. These factors—the isolated Pennine village, the burdened single parent, the three surviving girls and their brother (too shy Charlotte, shyer Anne, shyest Emily, and way too wild Branwell) left to go their own imaginative ways—have anchored almost every account of this most famous of literary families. More recent biographies have disputed that Haworth was particularly isolated, or that Rev. Brontë was particularly withdrawn, but this would perhaps make the girls almost more remarkable, their distinctive talents and social eccentricities blooming in balanced rather than barren soil.
Most accounts portray Emily as the brightest, most intense, and most difficult of the three sisters. Already in 1896, just a generation after her death, critics thought of her as "the sphinx of our literature." Charlotte thought her a "nursling of the moors," that "an interpreter ought always to have stood between her and the world," and that it could be dangerous for anyone who tried: "My sister Emily was not a person of demonstrative character, nor one on the recesses of whose mind and feelings, even those nearest and dearest to her could, without impunity, intrude unlicensed."
Many of the themes and tortured passions of Emily's Wuthering Heights are common to her poems, described by Charlotte as "peculiar music—wild, melancholy, and elevating." Many of these were written before she was twenty; the extract below is from "The Prisoner," written just three years before her death at age thirty:
O, dreadful is the check—intense the agony

When the ear begins to hear and the eye begins to see;

When the pulse begins to throb, the brain to think again,

The soul to feel the flesh and the flesh to feel the chain.

Yet I would lose no sting, would wish no torture less;

The more that anguish racks the earlier it will bless;

And robed in fires of Hell, or bright with heavenly shine

If it but herald Death, the vision is divine —
---
Daybook is contributed by Steve King, who teaches in the English Department of Memorial University in St. John's, Newfoundland. His literary daybook began as a radio series syndicated nationally in Canada. He can be found online at todayinliterature.com.