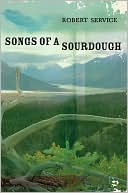 September 11: Robert Service died on this day in 1958. When he was twenty-one, Service quit his bank job in Glasgow and hit out for Canada, serious enough about fulfilling his dream of becoming a cowboy that he brought his Buffalo Bill outfit along with him. Ten years later he was back working in a bank, but at a branch in White Horse. By this time, the only rush was the one to get out of town. This gave Service more than enough leisure time; on his long winter walks, he composed and then tossed in a drawer "The Shooting of Dan McGrew" and "The Cremation of Sam McGee." Enough other poems went into the drawer over the next months that, when cleaning it, Service decided that he might publish. The first copies of Songs of a Sourdough were at his own expense, and only as many copies as his $100 Christmas bonus might buy—something to give to his friends, thought the bank teller-bard.
Over the next half-century Service became the most highly paid poet of the day, "Dan McGrew" making him over a half-million dollars alone. With the fortune made on his Yukon poems, he bought homes in Brittany and Monaco, and kept writing until near the end. Sometimes he lamented that his public was only interested in his simple rhymes "of gutter and of grime / Of pimp and prostitute"; in "My Lady Luck" he is clear-eyed and grateful:
…For Dan McGrew and Sam McGee

Saved me from sordid strife;

And I am grateful to these two

For sunshine in my life.

My turning point in luck I see

Refulgently began

The night I roasted Sam McGee

And perforated Dan.
This four-liner written during Service's last months expresses similar self-satisfaction:
Alas! My belly is concave,

My locks no longer wavy;

But though I've one foot in the grave

The other's in the gravy.
---
Daybook is contributed by Steve King, who teaches in the English Department of Memorial University in St. John's, Newfoundland. His literary daybook began as a radio series syndicated nationally in Canada. He can be found online at todayinliterature.com.