Classic works of fiction recommended by the author of Comeback Love.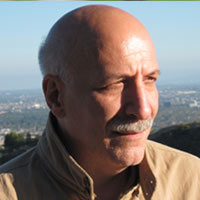 Comeback Love, follows a classic fictional scenario — a snowy Manhattan evening during which a man reconnects with "the one that got away" thirty-five years ago. When we asked author Peter Golden to pick three favorites, he responded appropriately with these classics — and told us that limiting himself to three was "hard enough to qualify as the thirteenth labor of Hercules. But here are a novel, a novella, and a short story collection that influenced my writing life."
---
By Robert Louis Stevenson
"The first novel I loved. Thirty years after reading it, I started thinking that it appealed to me because as a child I thought that David Balfour's life on the high seas and the Scottish Highlands was probably more exciting than riding my bike down the tree-lined streets of Maplewood, New Jersey. So I reread the novel and was pleasantly surprised. Stevenson knew how to get a reader to turn the page, and his blending of history and fiction was seamless — despite the liberties he took. His physical descriptions are lovely — the blackbirds whistling in the garden lilacs while mist hangs over a valley — and I've never forgotten David about to plunge from the top of the House of Shaws.
"Parents beware. If you don't want your children to grow up to be writers, you might consider keeping them away from this book."
---
By Philip Roth
"On the surface, Roth does a beautiful job of portraying a summer romance between the narrator, Neil Klugman, a son of lower-middle-class Jewish Newark, and Brenda Patimkin, a tennis-playing Radcliffe student whose parents have left the city for the moneyed, suburban comforts of Short Hills. For me, what remains so remarkable about this novella is not only that Roth managed to catch the American Jewish community in the midst of a seismic shift from their immigrant roots to the pinnacle of Gentile success, but that he also did so in the context of a mundane courtship with an eagle-eye for detail, juxtaposing the shimmering blue water of a country-club pool and the spacious, air-conditioned homes of the suburbs with a stifling hot kitchen in the city and the alleyway where the narrator's aunt and uncle go to share a candy bar to escape the heat."
---
By Flannery O'Connor
"You read these stories and suddenly you're no longer conscious of reading. Instead, you feel as though the events on the page are becoming part of your experience. No writer renders pain, sorrow, and hypocrisy, along with the pedestrian cruelty and bizarre violence of everyday life, with more artistry than O'Connor. She makes every bitter drop of it seem normal, inseparable from a peacock walking down a road or a Bible salesman stealing a woman's artificial leg. On first reading, her prose is clear and unpretentious, but as you move on through her work, her words dissolve into a haunting poetry that is not soon forgotten."