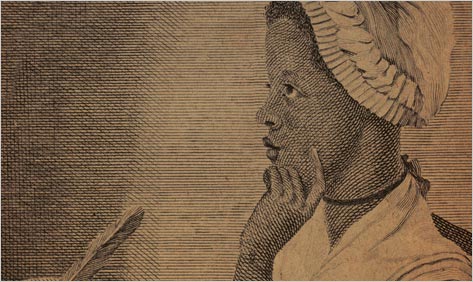 Phillis Wheatley may be a staple of elementary school curricula across the land, but she hasn't been the subject of a full-length biography until now. This is surprising, given that she's such an iconic figure, but reading Vincent Carretta's fascinating Phillis Wheatley: Biography of a Genius in Bondage, it becomes less surprising, for as Carretta makes clear from the outset, Wheatley is an extremely "challenging and elusive" subject.

The bare details of her life story are well known. Taken from Africa when she was around seven years old, Phillis (so named for the slave ship that transported her) was purchased by John Wheatley in 1761 and raised less as a slave than as a member of his family in Boston. Taught to read and write and given a strong Christian education by John's wife, Susanna, Phillis began writing poetry on religious topics as an adolescent; before long, the unlikely poet was famous in the Colonies and in England. In 1773 she published Poems on Various Subjects, Religious and Moral, which made her the "first person of African descent in the Americas to publish a book."

But Poems was to be her sole publication. After a triumphant trip to London to promote the book, she returned to Boston, where John Wheatley, at the behest of prominent British friends, granted her freedom; she married shortly thereafter. Ironically, as a free, married woman, "she becomes more difficult to trace" than she was as a slave. Wheatley died in obscurity at age thirty-three, but death immediately restored her fame.

While Carretta, an English professor at the University of Maryland, is often forced to speculate in order to flesh out the scant details of periods of Wheatley's life, he supplements her story with historical background, close readings of her work, and cultural context. (He notes that she fell out of critical favor for much of the twentieth century, in part because of her "most notorious poem," "On Being Brought from Africa to America," the opening line of which reads, " 'Twas mercy brought me from my Pagan land.") Most of Wheatley's later work is lost, and so much about her final years will likely never be known — whether she had children, how she died, where she is buried. Despite the challenges, Carretta has managed to do justice to an extraordinary life.