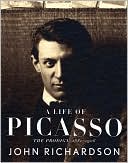 Nineteen-year-old Pablo Picasso had his first exhibition of paintings on this day in 1901, in Paris. Although some noted evidence of haste–anxious to seize the opportunity of the one-man show, Picasso had sometimes produced three paintings a day–or that the work was too derivative of Toulouse-Lautrec and others, one reviewer saw a "brilliant virility," a painter who "is in love with every subject and to [whom] everything is a subject." All in all, says John Richardson (A Life of Picasso: The Prodigy, 1881-1906), the exhibition was "a stunning bravura performance," and "in a modest way, a financial success."

Picasso continued to commute back to Spain, but he settled permanently in Paris in 1904, at the fabled bohemian studio-apartments in Montmartre known as Bateau-Lavoir. Over the next three or four years there, he would become connected to many of the major painters, patrons, and personalities of the avant-garde scene, developing through the "Rose" and "Blue" periods to arrive, in 1907, at Les Demoiselles d'Avignon, the revolutionary 8′ x 8′ masterpiece with which Richardson concludes the first volume of his biography:
…it enabled people to perceive things with new eyes, new minds, new awareness. Les Demoiselles d'Avignon is the first unequivocally twentieth-century masterpiece, a principal detonator of the modern movement, the cornerstone of twentieth-century art.
Picasso would move out of Bateau-Lavoir the following year. The masterpiece of his bohemian lifestyle there would be the party which he, Apollinaire, and others threw for Henri Rousseau. Whether described as a tribute to or a joke played upon the elderly Rousseau–self-taught, his Naive-Primitive style was not to everyone's taste–the dusk-to-dawn event is a highlight in the memoirs of Gertrude Stein and many others, and in the history books it is raised to iconic status as "the celebration of a whole epoch…one of the landmarks of the pre-World War I era" (Roger Shattuck, The Banquet Years).
---
Daybook is contributed by Steve King, who teaches in the English Department of Memorial University in St. John's, Newfoundland. His literary daybook began as a radio series syndicated nationally in Canada. He can be found online at todayinliterature.com.