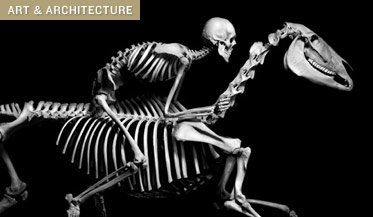 As the aesthetes on your holiday list already know, there is no better mood enhancer for the bleak midwinter blahs than a spectacular illustrated book. What follows is a sampling from among the most effective dispellers of gloom from 2007 , eye-candy offerings sure to impart the gift of awe.

First off, two monograph catalogues that provide insight into their talented subjects while also being sumptuous souvenirs of extraordinary installations.

The exhibition catalogue of Paul POIRET (by Harold and Andrew Bolton, The Metropolitan Museum of Art/Yale University Press) stands out from a crowd of fashion-house tributes this year, (notably Dior, Ralph Lauren, and Taschen's collector-priced Valentino). That's not only because of its subject's revolutionary talent but for its merits as a exquisitely produced book. Poiret (1879-1944) was a French couturier — who couldn't sew!– known for reimagining ethnic styles from Greek to Persian, and is still capable of dazzling even the jaded post-modern eye. Not only did he throw out the corset, he wired hems, slashed harem pants to the hip (the better to flash leg!), introduced the t-shirt-like sac dress, and bedecked radical chic clients (like future museum-divas Peggy Guggenheim and Gertrude Whitney) in vivid jewel-tones — thumbing his nose at pallid Edwardian conventions of palette and silhouette. Savvily self-promotional, he cultivated notoriety with his extravagant f?tes in his homes (flaunting an art collection studded with such contemporaries as Brancusi, Matisse, Modigliani, and Picasso), while also extending himself as a "brand" into perfume, furniture and beyond. Though this tome sadly doesn't record the fantastical period dioramas of the Metropolitan Museum's exhibition, the oversized plates include reproductions of the bold Paul Iribe and Georges Lepape promotional artworks, and many glorious details captured in intimate, instructional-quality closeups that no guard would ever have permitted a museum-goer to enjoy.

Enthralling as the MoMA Richard Serra retrospective was, since his major sculptures are on a mammoth scale, it's impossible to fully appreciate them in person, especially within the confines of this urban museum and its modest courtyard. Happily, the Richard Serra Sculptures: Forty Years (MoMA) catalogue provides aerial and location shots that would otherwise never be seen by anyone other than the most dedicated (and deep-pocketed) globe-trotting fans. At MoMA, the visitor could only appreciate the objects as iconic forms — inherently beautiful, yes — in isolation from more expansive environments. In this hefty volume of black-and-white documentation photographs, the viewer also gets to see his works in dialogue with rural landscapes –sometimes over acres — and in deliberate juxtaposition to older buildings in far-flung cityscapes. The debt other major artists (such as the Vietnam Memorial creator Maya Lin) owe to his minimalist vision is made particularly clear. Thorough as this catalogue is, it's regrettable that there are no color plates, which would have revealed just how mutable and textured (and more sensually appealing) are the surfaces of these steel structures, replete with streaks of ochre, red and orange.

While Serra's greatest work engenders wonder by conveying monumental permanence, sculptor/land artist Andy Goldsworthy achieves wonder by celebrating the exquisiteness of impermanence. As with many of his previous series, Enclosure (Abrams) emphasizes that patient process is integral to the work, and so is its disintegration: the build up and the break down always captured in Technicolor. While Serra's greatest installations are an interruption of a landscape (whether natural or man-made) they demand the viewers' attention as they manipulate their traffic patterns through space. Goldsworthy champions the seemingly incidental masterpiece, and though his work is no less an interruption of the norm (how often do you find tendrils of wool meticulously coiled on a rock in the middle of a stream?), his approach is one of indirect seduction, challenging the witness to ask What's different here? This volume chronicles his experiments with "sheep, fields, water, stone and wood." Often the most astounding image — say, a baroque curlicue of white wool standing impossibly vertically–has a caption that reads like a how-to manual in blank verse, i.e.: "Wet wool / laid flat / left to freeze overnight / stood upright / water poured over base / held until frozen."

One of the visual thrills of Enclosure is that it gives the reader an accelerated view of the evolution of an artwork. Evolution (Seven Stories Press; photographs by Patrick Gries and text by Jean-Baptiste de Panafieu), provides an accelerated view of thousands of years of biology, via large-format photos of startling power. All the animal skeletons are mounted in life-like poses, the black-and-white images simultaneously conveying both the qualities of an x-ray and that of an affectionate action portrait. While we are accustomed to see dinosaurs stripped to their bones, to see the bizarre vertebrae of a giraffe's neck, the funny bowed legs of the armadillo (which crouch inside his shell), or even the leaping of a common cat is unexpectedly engrossing. Observing a human skeleton astride that of a horse emphasizes the fundamentally bestial affinities of man, which we may arrogantly wish to protest, but which these photos make all the more undeniable.

James Stevenson's Lost and Found New York: Oddballs, Heroes, Heartbreakers, Scoundrels, Thugs, Mayors and Mysteries (Collins) also brings delightful shock to the familiar. As long-time subscribers to The New York Times will admit sotto voce, they have been secretly yearning for more comics to break up "all the news that's fit to print." In recent years the Times has delivered wonderfully with Stevenson's hybrid "Op-Art" pieces. It's a perfect match — the veteran cartoonist and illustrator can certainly draw marvelously, but he also packs in fascinating research, especially on such choice curiosities as Ben Marden's Riviera nightclub. Stevenson reports, "On summer nights in the 1930's, the roof would be retracted, allowing moonlight to fall upon as many as 900 diners, dancers, gamblers, waiters, big-band musicians, torch singers, chorus girls and bouncers, as well as the cr?me of the underworld."

As in every holiday season, there are plenty of splendid coffee-table books presenting tour-de-force interiors but since these books present gilded realities that exceed the space and economic limitations of the average citizen (even the millionaire urbanite), they can be the gift that keeps on goading. A refreshingly different volume is Micro: Very Small Buildings by Ruth Slavid (Laurence King Publishing), an anthology that champions humankind's infinite capacity for ingenious "mircoarchitcture." Like David Greenberg's dazzling Treehouses in Paradise, these case studies exemplify the notion less is more: they manifest elegance in environmentally friendly and efficiently streamlined structures that don't skimp on meeting human needs. A Croatian public toilet is as refined in materials and minimalist form as a Steven Holl chapel. An Australian park-bench flips up to be a miniature lean-to for a homeless person. A British team created an earthquake-resistant inflatable concrete canvas shelter (the canvas balloon supports the concrete as it dries overnight). Astonishment punctuates the turn of each page — a reminder that the mite-y can also be mighty exciting.

For our grand finale, I leave you with the dervish of invention that is Julie Taymor. To keep up with the prolific director and designer's ever-expanding oeuvre in theater, opera and film, Abrams has updated Julie Taymor: Playing with Fire (by Eileen Blumenthal, Julie Taymor and Antonio Monda) with its third edition since the original publication of the book in 1999. While no print work is capable of capturing the emotionally and visually intense experience of Taymor's productions, this book does convey through her notes, photos and drawings an immersion into her artistic process–sure to be pored over by not only her cult following but also by the rising generation of aspiring experimental maestros (note to Abrams: for the next edition, may we have a DVD of her film work?). Closing the cover, all the reader craves is one thing: encore!