See the world.
---

Relics: Travels in Nature's Time Machine
By Piotr Naskrecki
"The past is never dead," William Faulkner famously wrote. "It's not even past." Zoologist and photographer Piotr Naskrecki offers an eye-opening perspective on that statement through living creatures who closely resemble their ancestors of millions of years ago. From the humble horseshoe crab to the majestic forests of New Guinea and Guyana, Naskrecki unveils a timeless world that flourishes around us, if we only have eyes to see it.
---
By John James Audubon
No artist has more definitively captured the variety of the avian world than John James Audubon, the painter and naturalist whose landmark work, The Birds of America, included 435 life-size prints — each of which, in his original edition, had to be hand-colored by a team of assistants. This slipcased facsimilie of a set held by the Natural History Museum of London makes it possible, for the first time, for ordinary readers to experience the grandeur of Audubon's vision.
---
Field Notes on Science and Nature
Edited by Michael R. Canfield
In this unique sampling of the diaries and field notebooks of working natural scientists, we're privileged to see first-hand how knowledge about our planet and its inhabitants is made. As our reviewer, Tess Taylor, wrote, its "lush facsimiles" of scientific notebooks offer a wealth of detail in words and pictures: "sketches of butterflies, charts of soil strata, or memories of weather and light. In the era of the laptop and iPhone, readers can see what the Moleskine can still accomplish."
---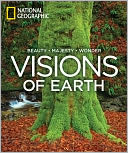 Visions of Earth: Beauty, Majesty, Wonder
By National Geographic
Justly celebrated as a showcase for the world's most talented nature photographers, National Geographic magazine has offered particularly memorable images through its "Visions of Earth" feature, which contain some of the most arresting and even moving representations of sheer wonder to be found anywhere — ranging from confrontations with the silent majesty of landscape to captivating encounters with people around the globe. This collection brings together highlights from the series, along with photographs appearing here for the first time.
---

The Altered Landscape: Photographs of a Changing Environment
Edited by Anne M. Wolfe
Photography of the natural world often keeps human encroachment discretely out of the picture. But this fascinating and challenging volume does the opposite. Anne M. Wolfe has here collected the work of one hundred contemporary photographers who set out to record the effects of artifice on landscapes. Parking lots and coal mines become revelatory backdrops for compositions of destruction and beauty.