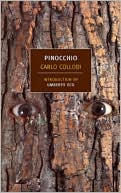 Carlo Collodi's "The Story of a Puppet," introducing Pinocchio, began serialization on this day in 1881 in an Italian magazine for children. The first book publication of The Adventures of Pinocchiocame two years later; by the early decades of the 20th century the story was popular internationally, though the many translations often strayed from Collodi's tone and theme. At that point, reports Umberto Eco after visiting a 2008 Pinocchio retrospective in Milan, the translations turned to transmutations and commodifications, the original tale further obscured by "various naïve and degenerate devotional forms":
The Milan exhibition contained countless versions of and variations on Pinocchio: comic books, 325 sequels in Italian alone…four hundred postcards, ten board games, hundreds upon hundreds of figurines, fourteen calendars, ten musical compositions, forty posters, forty records, and several hundred miscellaneous objects (wooden toys, dolls, tins, glassware, celluloid rattles…). In the history of pop religions, I think only Mickey Mouse has surpassed this level of success.
The above comments are from Eco's Introduction to the 2009 NYRB edition of Pinocchio, this a translation by Geoffrey Brock that aims to return the puppet to his intended personality–closer to Huck Finn than Walt Disney–and retain the story's darker tones. In Chapter 14 the rapscallion-hero scoffs at preachy fathers and crickets warning him of the murderers he might meet on the open road; when murderers immediately appear, Pinocchio faces death by fire, by knife, and by lynching:
They wasted no time tying his hands behind his back and slipping a noose over his head, and then they strung him up from a branch of a large tree called the Big Oak.And then they waited, sitting on the grass below, for the puppet to stop kicking. But after three hours, his eyes were still open, his mouth still closed, and he was kicking more than ever.Finally, tired of waiting, they turned to Pinocchio and sneered: "Goodbye until tomorrow. When we come back, let's hope you'll be so kind as to let us find you good and dead, with that mouth of yours wide open."And off they went.Soon a violent north wind blew in, raging and howling and jerking the poor dangling puppet this way and that, making him swing as wildly as the clapper of a church bell on Sunday.
---
Daybook is contributed by Steve King, who teaches in the English Department of Memorial University in St. John's, Newfoundland. His literary daybook began as a radio series syndicated nationally in Canada. He can be found online at todayinliterature.com.