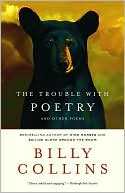 March 22:Billy Collins was born on this day in 1941. Collins has published or editednine collections of reader-friendly poems over the last decade. When his The Trouble with Poetry (2005) appeared,it received the usual praise, but some protested that the two-term PoetLaureate might be accessible to a fault. One reviewer for the New York Times sprang into verse himself, asking Collins for "not agood-natured wave / from writer to reader, / or a literary joke, or a mildchuckle," but "to be drawn / high into the poem's cloud-filled air / andallowed to fall / on rocks real enough to hurt."
If Collins "hasbrought laughter back to a melancholy art," some of the laughs have come froma joke he played a few years ago through his mock-promotion of the"paradelle," a poetic form in the manner of the rondelle, villanelle,and other metric convolutions. Here's Collins providing a pedigree anddefinition for his invention, junked together from some wrecking-yard forpoetic forms:
The paradelle is one ofthe more demanding French fixed forms, first appearing in the langue d'oc love poetry of the eleventhcentury. It is a poem of four six-line stanzas in which the first and secondlines, as well as the third and fourth lines of the first three stanzas, mustbe identical. The fifth and sixth lines, which traditionally resolve thesestanzas, must use all the words from the preceding lines and only those words.Similarly, the final stanza must use every word from all the preceding stanzasand only these words.
Many would-be paradelle-iststook all this seriously, and the form has actually gained some legitimacy—onerecent collection published with an introduction by a bemused Collins.
In the title poem of The Trouble With Poetry, Collins paystribute to Lawrence Ferlinghetti, who turns ninety-two this Thursday. Collins saysthat "The trouble with poetry / is that it encourages the writing of morepoetry / …And along with that, the longing to steal, / to break into thepoems of others /with a flashlight and a ski mask." He then steals from apoem in Ferlinghetti's A Coney Island ofthe Mind, which "I carried in a side pocket of my uniform / up anddown the treacherous halls of high school."
---
Daybook is contributed by Steve King, who teaches in the English Department of Memorial University in St. John's, Newfoundland. His literary daybook began as a radio series syndicated nationally in Canada. He can be found online at todayinliterature.com.